Strain Review: Grape Octane OG by Flawless Cannabis
A new to me brand up for Review!
@flawlesscannabisco picked up from @lemonnadesacramento
. #yee #GrapeOctaneOG
.
Brand: Flawless
Strain: Grape Octane OG
Lineage/Genetics: High Octane OG x Grape Pie
Original Breeder: Cannarado Genetics
Grower: Flawless Cannabis Co.
Dispensary: Lemonnade Sacramento
Grape Octane OG Strain Review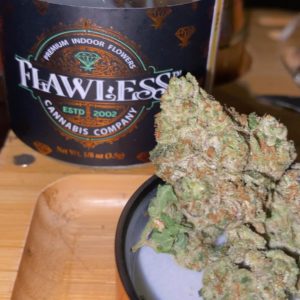 30.45%THC
Comments: Top shelf new brand to me. Didn't have a chance to smell this one but the nose is whoa.
Review:
1. Scent: Super Gas almost synthetic like with a semi grape-ish scent on the exhale from the jar.
2. Appearance: B size nugs with a lot I mean a lot going on. Trichomes hairs, bulbous nug pattern. Wild.
3. Nug Structure: Bulbous suckers. No issue with hand breakdown to smaller pieces. Didn't dry out.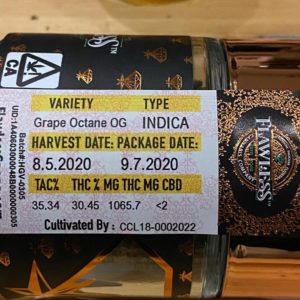 4. Smoke: Heavy but smooth off the bubbler. Little tingling off the nose on exhale.
5. Taste: Terpy Gasoline with a black licorice type of taste maybe. Little bit of a grape but it slight, more bitter/sour.
6. Reaction: The GF wasn't a fan. I ended up smoking most of this in the bubbler. It's an interesting high since the body doesn't wanna move and the mind wants to create. Says indica and I have a similar high to other brands in the past from brands like High Garden.
7. Conclusion: This was a shot in the dark pick up. Didn't have a chance to smell it in shop but would likely skip it. We prefer more pine terpy vibes. Would love to try another one from them. If you like gas tho, this would be fire. My boy from the bay was def feeling this one, so it's more or less a personal preference.
#cannabiscommunity #cannabis #cannabisreviews #trees #weed #weedreviews #pot #potreviews #thc #sacramento #916 #420 #yee #legal #strainreview #california #valley #thehighestcritic #westcoastsmokeshow #loud #Flawless
Check out more reviews by @trunorcal420 on Instagram! (www.instagram.com/trunorcal420)