Pre-roll Review: Moon Rock Mini Blunts by PRESIDENTIAL
Moon rock mini blunts from PRESIDENTIAL aka "world's strongest indica" – which is boisterous marketing – that when it comes down to brass tacks and real numbers is physically impossible and exactly the kind of thing that will disappear after federal legalization brings much needed truth to marketing standards to this industry.
Brand: PRESIDENTIAL
PRESIDENTIAL Moon Rock Mini Blunt Reviews
Each sack comes with three 0.7g, 100% tobacco free mini blunts. They're available in "classic" flavor, "grape" flavor, and "watermelon flavor." The pack is intentionally reminiscent of cigar packs I used to have to buy under the prohibition to disassemble into wraps to then reassemble into a blunt.
The coolest part is that each mini blunt is protected by a cut boba straw. I applaud this ingenuity and it's hands down my favorite part of the brand because I haven't seen anyone else doing it – and they should.
Unfortunately, the "classic" flavor isn't "original flavor." The inhale is saccharine and vanilla-y. Not going to feel classic to anyone but regular black and mild smokers. The grape and watermelon are pretty on point if the goal is to mimic a purple or pink swisher.
There's definitely more fake terps in here than real terps. I tried each one of the flavors and couldn't make it more than a few puffs into each.
It's like being transported back in time a decade.
I'll address the elephant in the room, why are moon rocks still being made with disty? Why are moonrocks stuck in yesteryear? Someone holler at me when solventless moonrocks are on shelves somewhere. Or when PRESIDENTIAL tells you what cultivar is in their moon rocks.
The high creeps up on you, it is undeniably there, but it's very one track and stoney and only enjoyable once the taste of the mini blunt is gone. This thing is a powerful THC bomb, good for sharing with groups, but just be warned that it tastes like the presidential toilet and if you consider yourself a true cannabis flavour chaser – run away or prepare a pickleback level chaser.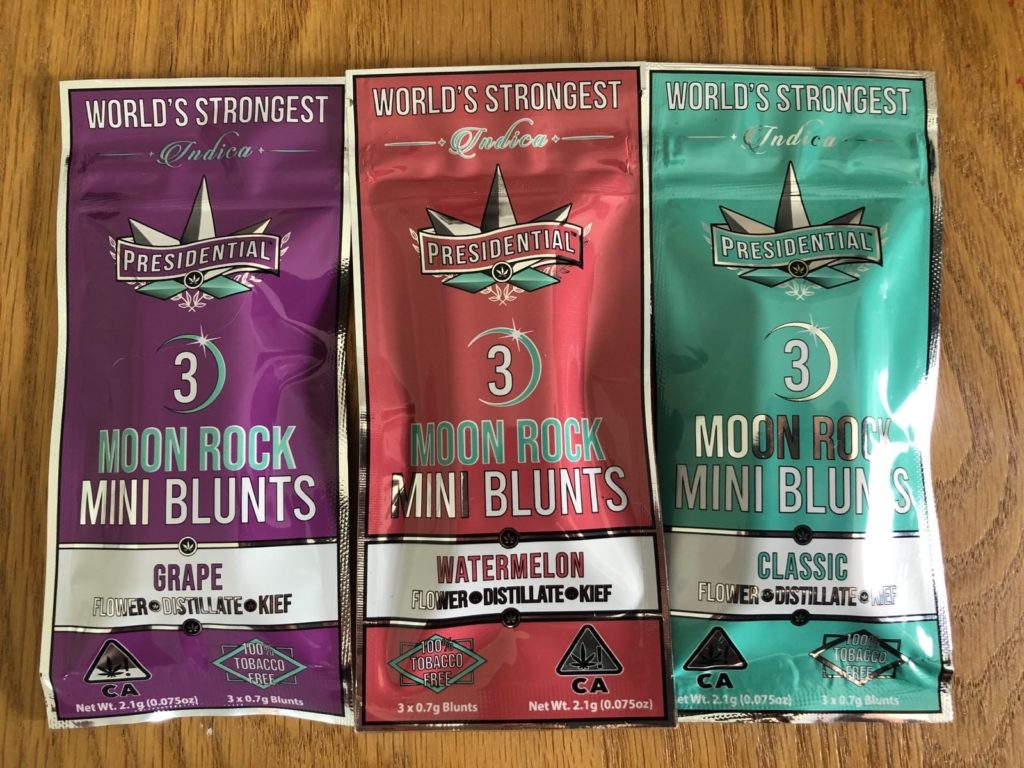 Advertisements