Pre-roll Review: Orange Fruity Pebbles Motivator minis by Cannavative
Cannavative has these mini Motivator pre-rolls that are the perfect sized infused pre-roll.
Lineage/Genetics: Fruity Pebbles OG x OJB
Original Breeder: Franchise Genetics
Grower/Processor: Cannavative
Dispensary: Silver State Relief
Cannavative Orange Fruity Pebbles Motivator mini Pre-roll Review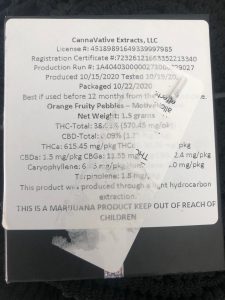 I absolutely love it when an old school strain like Fruity Pebbles is revived by established brands. It's been years since I last had Fruity Pebbles the strain… It's been decades since I've had Fruity Pebbles the cereal so I can't say that I remember what the orange pieces taste like. I've eaten some certifiably weird things in my time, but Fruity Pebbles cereal in orange juice instead of milk is not one of them.
I can't say if the strain tastes or feels like its name, but I can say that it hits hard. I definitely tasted limonene, as well as that earthy, grainy taste I'm sure some reviewer somewhere has referred to as cereal-y at some point. I didn't think too long on the taste, though; because just like with the regular Motivator, I was quickly swept away by the feeling.
Whenever I'm trying a new brand or dispensary's pre-roll, and periodically afterwards, I always untwist the end and let a little bit of the pre-roll's innards out so I can examine them. Especially if it's supposed to be an infused pre-roll!
Two notes from looking in Cannavative Motivators:
The 4:1 ratio of flower to honeycomb is verifiable by a quick visual check.
This is top shelf, well trimmed, nug – not some shake.
No wonder I felt like I had received a combo smack from Dino Flintstone and Mike Tyson straight to my lungs and head. Highly recommended for the Nevadents out there.
Aspiring trailblazer. As seen on MERRY JANE, LV Cannabis Reviews, Slyng, and The Stoned Gamer.