Strain Review: Bubba Gas Mints by Amplified Farms
This glass jar of Bubba Gas Mints was received from Amplified Farms.
Lineage/Genetics: Unknown
Original Breeder: Platinum Clouds(?)
Grower: Amplified Farms
Terpene Profile: Unknown
Bubba Gas Mints Cannabis Cultivar (Strain) Review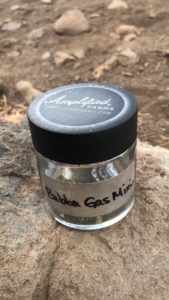 When i tried the Amplified Farms Zeppelin preroll version of Bubba Gas Mints, I dry hit that thing more times than any other Amplified preroll prior. That is until I rolled my own joint using straight up flower from the jar which I broke up with my fingers to really feel the tactile nature of the plant.
That's some glue trap stickiness and the trichomes shine right back at me even on an overcast day. The bag appeal on the Bubba Gas Mints is strong. The nug looks tight and the bracts look perfectly mature. The color has that almost neon green tinge to it and there are distinctly two different colors of pistils and a similar range of colors on the trichomes. All so Bubba and all so observable with the naked eye.
The smell had a bit of spice to me. After a few months, the gas was less prevalent and I got a strong earth and spice musk mixing in with the trademark Bubba Gas Mints creaminess. If I had to call that creaminess a particular type of icecream – it's right between mint chocolate chip and pistacchio. MMMM green.
The smoke is mega full bodied and the tickle in the throat might not be hard enough to trigger an automatic cough but it's noticeable. The high hits relatively quickly and ramps up nice and quick just as if the experience had had liquid accelerant poured all over it.
The high is relaxing in both the mind and body. Could easily zone in or out – if that makes any sense. It's an all around enjoyable high but I do note a hint of raciness in the background. I feel a little tiny bit of raciness like I'm aware that my body is a performance machine and that I'm idling. Fun times – would recommend.
Bubba Kush is a top old school bud for me so I am admittedly the epitome of what you would call biased towards any cultivar with Bubba like characteristics. No COA on this sample, unfortunately.