Strain Review: Cereal Milk by Amplified Farms
Want some Cereal milk. This isn't the powerzzzup, cookie crisp style Cereal Milk. This is the Cereal Milk from Limited Trees Genetics and Amplified Farms batch came out with oh so much ocimene.
Lineage/Genetics: Thin Mints x Undisclosed (Strawberry Lemonade)
Original Breeder: Limited Trees Genetics
Grower: Amplified Farms
Terpene Profile: Limonene Dominant
Limonene .591%
Ocimene .363%
Bcary .31%
Apinene .28%
Bpinene .19%
Amplified Farms Cereal Milk Review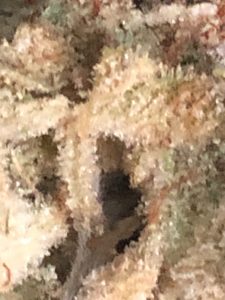 It's worth noting that I've never tried the other Cereal Milk so there will be no direct comparisons here.
When you open the jar, you're greeted by a stench that is familiar – but hopefully not too familiar. As a lactose intolerant that has avoided milk both in and out of the fridge for decades, I had forgotten it until it was pointed out by Amplified Farms' Master Grower: stale milk. Broken up, it is sweeter.
I broke off a tiny bit from the bottom of the stem and the trichomes were so abundant it looked like it had formed a macrostructure between the buds. Oh the trichomes.
The smoke was very milky and creamy on the inhale and a very full body smoke.
The high kept creeping up on me for what was likely just a few minutes but what felt like way way longer.
I felt like a gently force was pulling me inward from within.
It gives you energy, but doesn't eliminate that morning haze of having just woken (and boken).
Quite an enjoyable balanced high.
To conclude… don't pass on this even if you're on a T-break. Buy it just to smell. Then puff to your heart's delight later.
Certificate of Analysis (COA): https://lims.tagleaf.com/coas/vx0OG2QW6wnO72e0Y9kJtB8Wx8BBbNdQhhHxRPFQidKO5y7Nvu
More info: https://amplifiedfarms.com/cereal-milk/
4spiring trailblazer.
2day, I'm thankful for my readers.
0h, and Grand Mammy Green.