Strain Review: City Lights (Critical Kush) by Edison Cannabis Co.
Got to try some beautiful City Lights strain (aka Critical Kush) as a pre-roll by @theedisonco (Edison Cannabis Co.)
City Lights Strain Review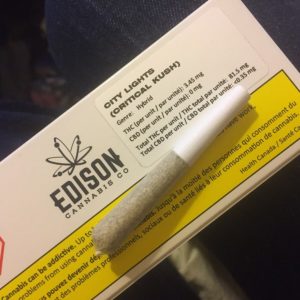 Love the calmness it brought as soon as I felt it in my lungs! This strain is great as a pre-roll.
This strain is the perfect bed time strain for me. While relaxing my brain it puts me into the "couch lock" mood. The perfect thing before bed. I sleep so well. It also conveniently comes in .5 prerolled joints so you don't have to break the bank.
Thank you @fireandflowerco for always having reliable and amazing quality products.
Thank you @brockstcannabis for hooking me up!
#medicinalcannabis#cannabis#legalcannabis#recreationcannabis#cannabiscommunity#citylights#edisoncannabiscompany#preroll#marijuana#brockstreetcannabis#fireandflower