Strain Review: Dosi-do by rythm
Dosi-Dos (Girl Scout Cookies x Faceoff OG) from @rythm_official via @beyond_hello_dispensary_pa After not being completely let down by Rythm, I decided to give them another shot after seeing these Dosi-Dos pop up on the menu at my dispensary. Opening the container I was immediately surprised. Cool gassy almost minty aroma bursting out of the jar. Fresh flower scent, with a nice OG sting and bits of deep manure. I was totally caught off guard with how nice these buds smelled, as well as looked. Compared to the first jar I had from Rythm, this one had absolutely no artificial smell whatsoever.
Lineage/Genetics: Face Off OG bX1 x OGKB
Original Breeder: Archive Seed Bank
Grower: rythm
Dispensary: Beyond Hello
rythm Dosi-Dos Review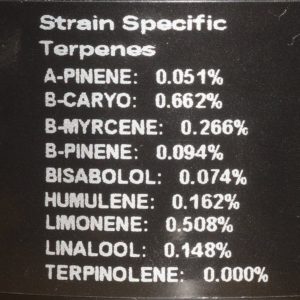 I rolled the Dosi-Dos in a joint as I was instantly curious on how it would smoke after seeing and smelling it. The flavor on the first few puffs is a nice subtle sweetness with a small hint of minty freshness. As I continue smoking, I also taste earthy tones of fuel, bits of pine and a bold yet savory flavor as I finish up smoking. The taste was completely on par with any real Dosi-Dos I have smoked, and would have to give them credit for doing a good job on this strain.
Being that this purchase was on a total whim, and I did not know what to expect, I have to say I was satisfied this time around. Rhythm seems to have a decent grasp on what they are doing, and especially with this batch I have to applaud them. The trimming could have been cleaned up a bit more, but for how nice these buds turned out overall, that is a minuit concern. The cure on these buds was nice, giving me fluffy yet sticky and dense buds that easily shredded down to be rolled. The effects from the Dosi-Dos left me feeling floaty and spacey, but not inebriated in any way. I was relieved of pain and anxiety, while feeling extremely calm and relaxed. I also recall this strain helping me with my appetite and overall consumption of food. In this case, the dispensary did not disappoint. If I can somehow come across more strains grown this well, I may find myself seeking some in the future!
This review among others can also be found at BigWhiteAsh.com
#cannabis #cannabiscommunity #pammj #cannabisreview #rythm #dosido #gsc #faceoffog #BigWhiteAsh
Advertisements