Strain Review: Kiwi Kush by Standard Farms
Kiwi Kush from @standardfarms via @ethosdispensary
Lineage/Genetics: (Hindu Kush x Kiwiskunk)
Original Breeder: Unknown
Grower: Standard Farms
Dispensary: Ethos Dispensary
Kiwi Kush Strain Review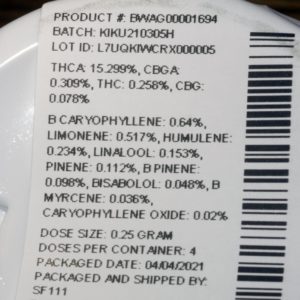 Went into Ethos center city for the first time and decided to cop a few things that caught my eye on their website. Cracking into the Kiwi Kush from Standard Farms, I am immediately met with a terrible musty almost mildewy scent. It comes off like a hickory pine almost, but not in any good way. As I continued to sniff the container, I nearly vomited from whatever stench those buds decided to emit.
The taste is honestly so terrible. It reminds me of deodorant or extra moldy blue cheese, but concentrated and also burning? Just a very unpleasant taste not reminiscent of "kiwi" whatsoever. No flavor indicated smoking this was fruity or sweet in any way shape or form. On the flavor alone, this single gram lasted me multiple days.
Although it felt like more of a chore than anything to smoke and even review this bud, it still looked decent. The trimming was pretty solid for how small these nugs were. I am curious to see if the larger nugs are just as nice. The buds were cured very properly and still had nice shiny white trichomes, however did not appear to feel wet or too sticky as I broke it down by hand. The effects from the Kiwi kush were actually pleasant and totally in line with my preferences. Strong body sedation with mental relief. I found myself able to space out and stare off into space while being totally okay with it. Even though I genuinely appreciate the relaxing properties of this flower, I just cannot deal with the smell or flavor.
This review among others can also be found at BigWhiteAsh.com
#cannabis #cannabiscommunity #cannabisreview #phillycannabis #ethos #standardfarms #kiwi #kush #kiwikush #dispotrash #BigWhiteAsh
Advertisements