Strain Review: Frost Machine by Mohave Cannabis Co.
Frost Machine
By @mohavecannabisco
Welcome to another review of some beautiful flower, thanks to @dammit.i.am ,for giving me the scoop on this killer brand that has an amazing line up just waiting to bless your lungs, without further ado I give you Frost Machine.
Lineage/Genetics: Unknown
Original Breeder: Unknown
Grower: Mohave Cannabis Co.
Frost Machine Strain Review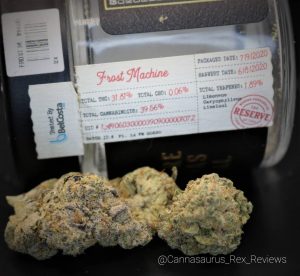 Appearance – As soon as I peared through the bottom of the jar I was entranced by the dense beautifully structured nugs that are caked in stunning layer after layer of trichs that give of a golden tone to the flower, orange pistils dark forest green tones peak through the frost just barely exposing themselves giving way to the occasional purple tones as I rotate the bud, truely something special.
Smell – I crack open the jar, at first my nose is met with a very slight pleasant sweetness, as I smell deeper the flavor changes to a crisp minty pineyness with a hint of a basement must on the back end, very smooth the kind of smell that makes you go mmmmmmmm, once broken open the tones float more towards the piney mintyness with a hint of sweetnes almost like a smooth creme de menthe.
Taste – On the inhale I was met with a nice cooling sweet mint that rolled around my entire mouth and stuck to it long after entry almost like an after dinner mint but not strong on the pepper, the bong hit is very smooth yet slightly expansive once it hits my lungs, not a huge coughing fit but could see one occurring if you tried to rip a massive hit, the exhale caught me off guard as it was smooth yet had something that I did not smell in the flower, a slight smooth pepper and gas not super overpowering but it all comes together so nicley at the end providing a thoroughly enjoyable toking experience.
Effects-Instantly after I took my first hit a slight head change began to sweep over me, after the second snap that head change became alot heavier, a very floaty feeling with a slight bit of raceyness began to creep up as I lit my third pull and exhaled, the buzz begins to work its way to my shoulders and I begin to relax, still a slight bit of raceyness in the head as I slip into a nice warm euphoria, I am focused and able to process my thoughts quite clearly, a good one for motivation as i feel like i could run a mile as it really gets my gears going, I don't reccomend this here for lightweights or inexperienced users, if you do start small see where your threshold is, to all my fellow cannasuers your in for a treat with this one, this is going back in the climate controlled vault!!!!
To @mohavecannabisco Stand up job, it checks all the boxes off for me, keep up the great work!!!
Advertisements