Strain Review: Blueberry by Cannabiotix
Blueberry
Lineage/Genetics: Afghani Indica x Thai Sativa x Purple Thai
Original Breeder: DJ Short
Grower: Cannabiotix
Cannabiotix Blueberry Review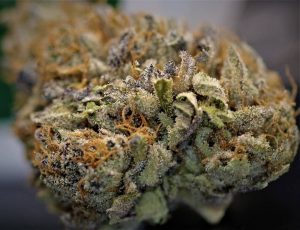 By @cannabiotix
I have been waiting to get my hands on cbx for some time now, with multiple cannabis world cup wins under their belt, I knew that this was going to be some pure fire and am very excited to bring you this review.
Appearance – As soon as I cracked the jar open my eyes where drawn immediatley to the tundra of frost, triched out and glistening like paul walls grill just simply covered, the nugs appear to have a nice hand trim leaving behind bits of resin soaked sugar leaves the kind of trim I like to see on my flowers not over done still leaving some of the off the plant beauty, upon examining further the tones are a mix of forest greens with slight purples appearing on the sugar leaves rolling into patches of beastly burnt orange pistils, once broken up you can see the trichs stick out on the ground down flower just shining away like little gold flakes bouncing off the sun. A truely perfect example of finely cultivated cannabis.
Smell – At my first sniff I pick up a strong piney woodsy musk, very crisp and clean smelling, as I sniff deeper the same nose sticks around with a hint of berry on the back end. Once I break the plant material open that grapey blueberry like nose emits from the flower smacking hard taking over in my nose like I just put fresh berries in a blender and mixed them all up, I smell deeper and a bit of that clean piney woodsyness finishes it on the back end and blends together amazingly.
Taste – On the inhale my mouth is met with a tantalizing flavor of berry that made my mouth water up, very smooth clean rip, some hits are a little more expensive on the lungs than others, I want to say there is a very subtle gas on the back end but it's not quite a gas and I can't quite put my finger on it, on my exhale was introduced to a very nice smooth creamyness with thick smoke that tastes exactly how it went down.👌
Effects – Now normally most Blueberry strains I have ever had minus a very few have been mellow as far as a stone not super over powering but just very chill, this one is q little of a different story. With a thc potency of 23.12% and a terp percentage of 1.39% this shit smacks.
After my first bong hit instanly I could feel the head change, a very floaty euphoria begins to ignite, kind of like being pulled back on a sling shot awaiting full lift off, after two snaps I could feel myself relax in my shoulders with my attention locked into the task at hand finding myself over analyzing and being my own worst critic, I rip the bong one last time and the stone really begins to set in, I'm really zoned in focused but nice and calm and relaxed not a ache in my body all muscles feeling relaxed as I can feel myself slump into my chair just happy as can be.
A Blueberry that is through and through Special.
I would reccomend this toke for after work or before bed, it's a nice way to take the edge off and is also great if your stuck home because of covid, as it will melt stress away and give you this nice happy soothing angelic stone. Great for sleeping and anxiety, I will warn this particular cut will hammer you down if your not careful to the point where people are asking you if your eyes are even open with a response of uhh yeah as you force your eyes to open. Haha I thoroughly enjoyed this cannabis and would always love to keep it in the headstash.
Fucking Stand up job to @cannabiotix they crushed it out ofnthe park and beyond, I'm excited to see what the future holds for them and am dying for the collab with @mystic.hand.melts . Keep up the killer work and thank you for cultivating such stand out meds.🙌🙌🙌