Strain Review: Gobstoppers by Playbook Genetics
Gobstoppers 🍇🍬
Lineage/Genetics: [Grape Ape x Zkittles]
Powered By: Playbook Genetics @playbook.genetics
Cultivated By: Playbook Genetics @playbook.genetics
Selected By: Greasy Couture @greasycouture
Terpene Profile: Unknown
Gobstoppers Cannabis Cultivar (Strain) Review
Class: Organic Soil Grown [NorCal/SoCal]
Flavor Line: Self Titled
SMELL | FLAVOR:
Break this one open, and you're invited by an aroma of what can only be described as a grape or purple sweetness and candy-like Zkittles funk, with a very slight bitter bit that is almost like cheese. A lot is going on here, however I'm very pleased with it all, and all from such a simple breed. I think this does live up to its namesake here. As I rolled it up and took a dry pull, the flavor translated perfectly to taste, and carried a gelato-like depth off of it along with the Z.
THE HiGH:
As you take your first few pulls, you're bolted into place for the experience, as the activity starts up right away and centers itself around your forehead and temples. It's enough to make you sweat a slight bit, and the true power of the terps come into play here as each inhale brings that feeling deeper into you. In a difference of feeling, as you continue through your smoke that energy of the high transfers to under your eyes and your cheek muscles in your face, giving them a relaxing stimulation that is heavy, sleepy, and everything a classic indica should have. You'll find your brain lulled into a quiet space, and have a slow but steady mood elevation which you'll notice. Up to the end of the smoke these effects get denser and relax around the cranium of your head and the muscles in all of your face, as well as a slight effect around the neck.
Dope's THOUGHTS:
Overall, a dope smoke. A very clever idea to couple these strains, and had some really dope results from it. This is a perfect strain for mood stability, and muscle tension. The high amounts of B-Caryophyllene along with some Humulene and Myrcene here make this such a drifting high, that I hope it's kept around. Well done.
This gets a well deserved 7.6/10 from me based on:
• Taste/Terpenes
• Experience/Effects
• Longevity clock in 2-3 hour maximum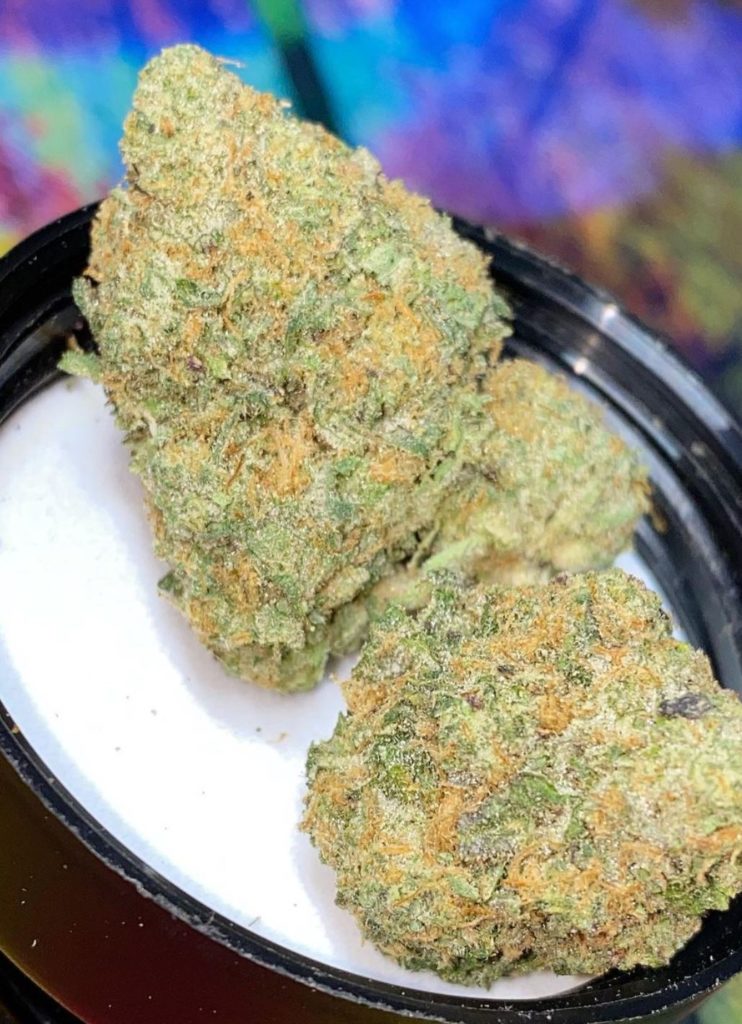 .
.
.
.
..
.
.
.
.
.
.
.
.
#potcast #podcast #cannabiscommunity #cannabis #cannabispodcast #weed #cannabiseducation #cannabisculture #cbd #organiconly #educationoveregos #beyondorganic #cannabismicroscopes #soilfoodweb #feedthesoilnottheplant #knf #knfyourself #cannabisschool #koreannaturalfarming #feedyourmicrobes #naturalfarming #wedontgrowthesame #livingsoilpodcast #livingsoil #broscience #maryjane #organiccannabis #loyaltothesoil #marijuana #thc
DOPE, THE REVIEWER!
Now Featured on The Highest Critic ⭐️
Young Mogul 👺 DMV ‼️
Culture Artist & Cannabis Reviewer. Creator of // #DOPAMINE 🧠
Advertisements