Strain Review: Horchata by 9 Mile Farm
Horchata
@9milefarm
Lineage/Genetics: Mochi Gelato x Jet Fuel Gelato
Original Breeder: Compound Genetics
Grower: 9 Mile Farm
Terpene Profile: Unknown
9 Mile Farm Horchata Cannabis Cultivar (Strain) Review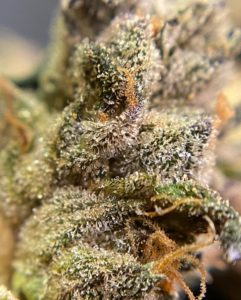 Aroma B / Gas A-
Has an old school basic gassy profile. Decently Loud terps of lemon, pine, pinesol cleaner with lemon cleaner backing, OG terps mixed with a sweet floral cream similar to a light floral hint of cereal milk, herbals, spices, and some barley hops soy veggie cream funk is present again like the other strains. Traditional gassy strain. Slight hints musk & funk, & sweet earth
Appeal: B+ Trichs: A-
Very dense, most the nugs in the half o were smaller but heavy, the main colas have nice funky exotic shapes, similar to a gmo structure with chunky bases leading up to calyxed out curling tips. Very Dense but also calyxed out, semi open structure reveals inner trichomes are clustered with medium to large heads, outer trichomes are clustered as well with smaller heads and some headless fuzzy action. The nug is made of dull greens, dark greens with beiges, hidden purps, & a milky trichome layer, and light orange peachy pistils of medium length, the cure is very soft for how dense it is, crisp but moist, greasy & semi sticky mostly from the trichomes. The cure is good and While it mostly looks tier 1 from the excellent grow, it has a tier 2 vibe genetically.
Ash: A- TerpRing: A Taste: B
Amazing burn, pure white ash, rare pepper, and a gnarly drip every session, it's pleasant but the terps are traditional in a gassy sense, pine, lemon, pinesol and lemon cleaner mix with hints of sweet earth and sweet floral cream. Herbals and spices underneath. It is very gassy with lung pressure but it's smooth too.
Effect A- Potency B+
Strong euphoric buzz, Stoney, but with a potency/ chest rush, subsides to mostly relaxed with baseline uplift & focus. 2.5hour buzz, good head change, strong body buzz. Its semi-Easy to finish a fat cone.
Overall B+
So it's got some nice attractive tier 1 traits to it, but at the same time it has some tier 2 traits to it. it's a basic gassy terp profile but lots of gas. It's basic top shelf with a lil something special to it. Avg genetic with a great grow. The burn, the effects, and the trichomes are the best parts of this.
Nothing is for sale!
#calibudreviews #9milefarm #californiaherbsman #horchatastrain