Strain Review: Pavè by Cookies Enterprises
Pavè 💎😈
Lineage/Genetics: Paris OG x The Menthol
Original Breeder: Compound Genetics
Grower: Cookies Enterprises
Terpene Profile: Unknown
Cookies Pavè Cannabis Cultivar (Strain) Review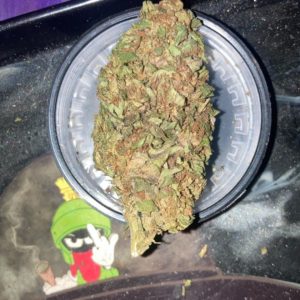 .
bred by @compound_genetics
grown by @cookiesenterprises
@thegaslady_
@berner415 X @quavohuncho
.
💎Immediately my nose was hit with potent deep sweet creamy woody notes mixed with a consistent danky slightly sour funk and hashy mintyness. Under those layers I get kushy pine diesel and spice notes that help carry a the hashy minty menthol kick through the backend. Overall the flower aroma is mouthwatering, its dank woodsy and earthy with gassy bold sweetness to it.
.
😈Super frosty, stout, dense nugs. Im immediately drawn to the contrast between the deep purple hues and the frosty slightly off white trichomes and the lime streaks . The tips and outer leaves display a mix of deep deep dark jungle green, eggplant, and wine hues and develop into a grape tinged sangria getting more vivid toward the stem as the violet starts to become more visible. The pistils are thick and a bold radiant burnt orange and develop in small clusters throughout the flower.
.
💎The flavors are bold and long lasting and match the aroma. My first puffs had a strong sweet woodsy flavor with a thick and smooth minty creamyness that really makes you crave the next hit. The dank kushy og flavor mixes well the menthol and creates a play doh like hint burried deep for nice full flavorful smoke, it doesnt lose its weight, potency or flavor as you continue on. The flavors are very balanced with with creamy woodsy and minty gassy tones
.
😈This was a great experience I'm not really attracted to celebs and their money grabs and honestly didn't even know it was tied to a celeb until after i bought it. The flowers aesthetics really bought me without even asking for genetics or strain name. From the first puffs I instantly felt a heavy sedating cloud start to creep into my limbs that quickly transformed into a full body buzz. Mentally I felt relieved and relaxed just what I needed at the end of a long day, before the sedation kicked in I went through an uplifting engaging creative period. Overall its a great to help manage insomnia, appetite, and stress I definitely recommend for night time use , you'll definitely feel the heavyness in your limbs and peace in your mind.