Strain Review: Acaiberry Gelato by SHERBINSKIS (2022)
Acaiberry Gelato 🍨 🍒🍓
Lineage/Genetics: Pink Panties ❎ Sunset Sherbert
Original breeder: SHERBINSKIS
Grower: SHERBINSKIS
Terpene Profile: Unknown
Acaiberry Gelato Cannabis Cultivar (Strain) Review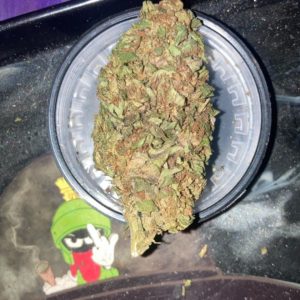 SUNGROWN
.
28.01% THC
.
@sherbinski415
.
🍨Sweet herbal aroma with a light berry cookie presence, you can definitely smell the difference between the sungrown and the indoor. The earthy notes in the indoor are strong but in the outdoor theres a more natural slightly sour scent.
.
🍓Big cone shaped, frosty nugs. Bud green outer leaves encompass the nug giving a hidden , bushy look. Under the green top layer orange brown pistils an autumn tinge cover the colas addind to the bushy hidden look. When you actually get to the colas theres a mix of forest and olive green hues with muted blueish grape and camel tinged streaks. The flower has a nice outdoor look thats actually refreshing to see, the nug was dense sticky af and broke down well into nice pieces great for rolling.
.
🍒Earthy flavors dominate with light tones of a raspberry lead dark chocolate/cookie mix. The taste is weighed down with some creamy gelato tones that mix well with the other flavors.The smoke is heavy and herbal with just a hint of flavor.
.
🍨Full body relaxation hits immediately, this is a strong indica. The high hits your limbs hard, it seeped into my limbs slowly weighing me down puff after puff. By the end of the blunt I was barely hanging on to consciousness dozing off on the couch, this strain rally helped with slowing down thoughts. After each puff, I felt slower and more relaxed. Great for Insomnia and dealing with running thoughts, highly recommend for before bed youll sleep hard af and wake up fresh and ready to grub.