Strain Review: Jealousy by Flightpath
JEALOUSLY @flightpathofficial
Lineage/Genetics: Gelato #41 x Sherb Bx1
Original Breeder: Seed Junky Genetics
Grower: Flightpath
Terpene Profile: Unknown
Flightpath Jealousy Cannabis Cultivar (Strain) Review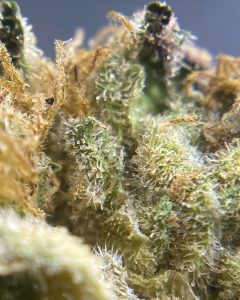 Thc: 31.33% Terp: 2.86% Canna: 36.29%
Pack: 1-12-22
This review is courtesy of @flightpathco
Killing the game!
@cali_bud_reviews2.0 has a macro trichome photo dump containing even more money shots!
Weight check: 3.60
Aroma: 91/100
Heavy cookie flavors, baked cookie, doughy cookie, and dough-Mint. Floral sweet and minty.. then we have creamy sherbet and gelato flavors. Ice cream-ish. Skunky freezer burnt gelato/sherbet/cookie flavors. More sherbet lil gelato… pine and gas backing. Aftergrind matches scents, with the dough, mint, and pine increasing in the aftergrind
Appeal: 88/100
6 nug eighths. Cookie appearance and cookied structure. Dense but soft nugs, leaning towards the drier side, it's properly dried, but slightly not enough moisture, it does have good finish to the product, some stickiness but only a little.Multi-shades of greens purps yellows are covered in thick trichome frost, and wild orange pistils. outside trichs are long/wavy but with small heads giving it the fuzzy coverage to naked eye.. inside trichs are shorter stalks but with gnarly huge heads. The macros up there show mostly the gnarly inner trichs, photo 8 shows 'fuzzy' outside trichs
Smoke 93/100 & taste 91/100
Pure white ash, dark avg resin ring. Clean burn! burned lil uneven tho, Pleasant and enjoyable smoke! Cookie/ Dough-MINT flavors are the strongest, with the baked cookie & herbals next, then the sweet skunky burnt gelato / sherbet & florals. Heavy pine and gas.
Effect 92/100 & potency 92/100
Effects hit in 5 puffs, a cone had me faded for 2.5hours. Relaxing body buzz, body buzz stronger than mind, very heavy, couch-lockable. Pain relief.. mental is baked, mind calmed and slowed down, with some Stoney flowing thoughts, lil uplifting, euphoric, but mostly Tranquil, the mind is still partially clear headed. Chest pressure.
Overall: 91/100
Great solid strain. Tier 1! Another perfectly clean burn! Appeal scored slightly less than the banana cream cross , but other catergories were about the same as banana cream. Great strain!
NOTHING IS EVER FOR SALE! REVIEWS ONLY!
#calibudreviews #flightpathco #strainreview #trichomephotgraphy #jealousy