Strain Review: Zkittlez x Kush Mints by Flightpath
Zkittles X kushmints @flightpathofficial @flightpathco
Lineage/Genetics: Zkittlez x Kush Mints
Breeder: Seed Junky Genetics
Grower: Flightpath
Terpene Profile: Unknown
Zkittlez x Kush Mints Cannabis Cultivar (Strain) Review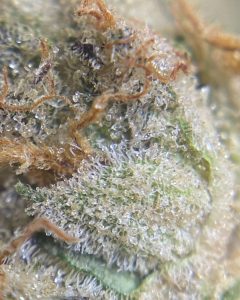 Thc: 30.28% Terp: 2.28% Canna: 37.04% Pack: *2-02-22*
MORE MACROS ON MACRO PHOTO DUMP @cali_bud_reviews2.0
Aroma: 94/100
Very loud! Again we have strong dough terps, but this it's blended with sweet fruit terps. I'm picking up pineapple, citrus, mango, and peach. With that creamy dough layer wrapping it up tough. Very Floral. Def zkittlez dominant. It does have a sweet skunky kush side to it. With some minor lemons and a hint of sweet mint. Tiny bit herbal musk funk creamcheese
Appeal: 93/100
Amazing! 7 nug eighth. Smaller nugs, but truly special in this category, light green and yellow bases, building up to purple tips on the half-foxtails. Perfect density, great structure, squat nugs made of half foxtails breaking off into chunky mini segments, trichomes have thick coverage, mostly long stalks with big heads, some fuzzy trichs that are even longer stalks, but with smaller heads. Freshly salted artificial pellet look from the big heads. Curly bright orange Pistils are long and wavy. Amber trichs! It's Not sticky but it's not over dried either. But has a good finish, clean crisps snaps, inner trichs shorter, but thicker with undisturbed big amber heads.
Smoke 92/100 & taste 92/100
Pure white ash, motor oil terp drip with clear wet resin, but faded away later. Very Clean burn! pleasant smoke! Very herbal, zest and spice. Heavy pine, kush, diesel, with some lemon to it. Then the dough mint wraps it all up. The sweet fruit terps are hidden behind the herbals and musks. But there is some sweet skittley floral notes occassionally.
Effect 94/100 & potency 93/100
Effects hit lil bit at 6 puffs in, but very creeper effects, at puff 10 it all catches up with you from the delayed effects. WAM, it hits hard with a deep strong gravitational pull right in your chest and spine. Again we have another body buzz dominant strain. With a good head buzz, but partially clear headed like the others. Thoughts are slowed and calmed. Relaxed. This is great for unwinding! Face pressure.
Overall: 92.75/100
Very good strain. This one has the best aroma of the 3! 2nd best appeal of the 3.. all 3 have great burns. Clean af! This one had intense creeper effect, and hit hard in the body and face. Mind was Stoney but clear, all three of them had that similar clear headed experience all while maintaining that heavy potent buzz. Good medicine as well. Nausea and pain are curved. Eventually leads to a sleepy vibe hours later, the after effects are very nice lingering for most the night. Flight path is by far the best brand with mylar eighths. Most mylar eighth brands fall a tiny bit short of my desired mark, but these guys have great flower, and make my cut easily. Very good first run, big things coming here. Shout out to @inspectorganja562 @inspector_of_all @dude_doing_things for reviewing this strain and anyone else who reviewed it before me shout out to you as well, your all the reason this community is becoming what it is!!