Strain Review: Mitten Cake Batter by Jungle Boys
Here's my detailed review on this @jungleboys @tolucalakecollective batch !
Lineage/Genetics: Wedding Cake x Kush Mints
Original Breeder: Seed Junky Genetics
Grower: Jungle Boys
Mitten Cake Batter (Wedding Cake X Kush Mints) Strain Review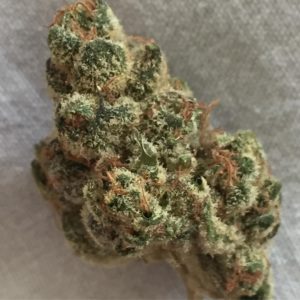 My first time trying some pre pack Cali top player, I went with that Mitten Cake from JB 🔥As i understand it, this strain is a selection/backcross of the original Wedding Cake (TK X KM) from @seedjunky_jbeezy –
–
First of all, those lil nuggies looks incredibly beautiful with their dusty yellowish & bright shades of green 😍 Eye catching sharp crowning calyxes & thick coating trichs. –
–
The noise right off the bag is not very loud but makes for it with very precise & refined terp attack 🤤
When squeezing the bud, the funk is undeniably mouthwatering & moreish 😍
The bouquet is composed of a delicate & creamy vanilla background with hints of mint & citrus in a kinda mothball/mosquito repellant fashion 🤣 It's the best way I can describe it. –
Smell to taste transfer is banging & gives very good impressions of a strange cake/candy treatment 😍I mean that fresh sugary/vanilla terp defo reminds me of the icing on a cake.
–
–
The high is very good, slow paced indica dominant 4 sure, strong anti depressant & narcotic at the same time. Night time 🌙 but not the best for binge watching or getting creative cause it's gonna make you feel distant & easily distracted. Strong body component that lasts ages & get you floored, goes without saying it is an efficient insomnia/appetite aid. The high is the main highlight on this batch for me 😀
–
–
TLDR : all in all, as a strain hunter/flavor lover I'm grateful to have experienced some JB gear especially with a strain (the original seedjunky's wedding cake) that was at the top of my wishlist. –
However, if i'm being completely objective/critic minded & given the fact that I live in europe i would say that spending that much on a single 8th is absolutely not worth it. Imma stay with californain unbranded flowers or european top shelf that is growing bigger & bigger (barcelona & uk cannabis scene 🚀). But hey if you feel rich enough you can always go for a lil' legal fancy bag treatment 😜
French cannabis lover, that became hooked when first growing OG & Haze in high school.
Advertisements