Strain Review: Peanut Butter Soufflé by Fabulous Cannabis Co.
Peanut Butter Soufflé
.
By @fabulous.cannabisco
.
Lineage/Genetics: DosiDo x Lava Cake
Original Breeder: pHinest x Cannarado Genetics
Grower: Fabulous Cannabis Co.
Peanut Butter Soufflé Strain Review
.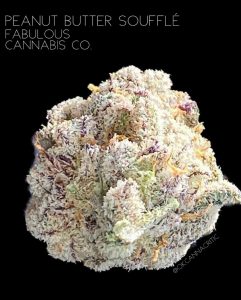 The fine folks @fabulous.cannabisco have added a new player to their line up and it's definitely a keeper. Peanut butter Soufflé, a cross of Dosi Do and Lava Cake is an earthy yet super sweet treat for sure. With a nose so unique I would just urge you to check it out yourself! It's deep, dank, creamy and rich. Holding strong to all that Cookie lineage, Peanut butter soufflé pears notes of deep chocolate, creamy vanilla and deep gassy undertones for an incredibly smooth smoke. Effects are wonderful on this Hybrid. Slightly Indica dominant, but shows a good balance of it sativa side by not keeping you too vegged out. If you see this one, you better grab it! This beauty queen will not stay on any shelf long. If you have not had the chance to try Fabulous Cannabis, you are missing out! Some of the best flavor profiles and effects you will find on a shelf in Oklahoma. Peanut butter soufflé and all the other faves from @fabulous.cannabisco will be dropping soon!
.
.
#strainhunter #privatereserve #topshelf #exuisitecannabis #okcannabisculture #cannabis #okcannabiscommunity #highsociety #theoklahomachronic #okcannacritic #strainreviews #cannalifer #reviewpreviews #publishedreviews #originalreviews #notyouraveragereviews #staylitoklahoma #smokebetter