Strain Review: Platinum GSC by Ten Four Farms
My love letter to the Platinum GSC that @tenfourfarms grows begins here.
Lineage/Genetics: OG Kush x Durban Poison x Unknown Strain
Original Breeder: Cookies Fam Genetics
Grower: Ten Four Farms
Dispensary: Oregrown
Platinum GSC Strain Review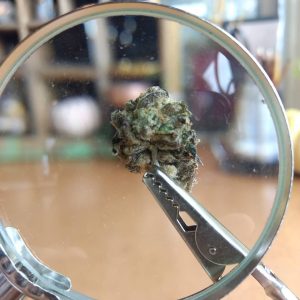 I've been smoking this stuff probably since legalization first happened. Back in the day, top quality bud that got me eating and put me to sleep was difficult for me to afford. I was shopping at @puregreenvibes, which was my go-to at the time for quality at an affordable price. This stuff was a godsend when things were shitty. Haven't gotten to sleep before 5 A.M. in two weeks? Fixed. Haven't eaten a good meal in days because your stomach hurts and you're fucking stressed? Not any more.
I'm not even gonna get into the flavor. If you've had top quality PGSC, that's what this is like. The effects are what made me fall in love. Full body relaxation melts over you on the first exhale, followed by heavy eyelids, a big grin, an overwhelming desire to clear out your fridge in one sandwich. The stoniness hits by the end of the snack, and sleep is inevitable.
I grabbed this at @oregrownpdx, which is definitely a recommendation, but you can usually find it at @thc.pdx, @pdxwonders, @puregreenvibes, and a number of other places. Get it if you like really good weed.
THC: 23.1%
CBD: 0.42%
A look back at the Platinum GSC
If nighttime is a problem for you, this is the solution. The Platinum GSC from @tenfourfarms is an Oregon classic for a reason. Like a bar that can make a good daiquiri, a dispensary that carries this is almost guaranteed to be quality.
I've loved this stuff for years. I used to buy it at Pure Green back in the day because one of the budtenders I liked a lot personally suggested it to me(S/O @claragilletart). It helped me get through a hard time, and it's been a regular in my medicine cabinet since then.
I don't focus on the flavor/aroma with this. It's good, it's Cookies. Sweetened dough and a some hashy notes. The smoke isn't harsh, and the flavor comes through well. While not especially noteworthy, the quality is noticeable nonetheless.
What I find notable with this is the relief I get from it. I get it when the world is feeling like a lot and I need to really relax. It's truly a weight off my shoulders and a blessing to have during dark times. It eases me to sleep more reliably than any other strain on the market, and encourages me to eat in a really nice way. This is a medical strain if I've ever had one.
I got this at @thc.pdx, but @oregrownindustries and many other places around town carry it as well. If you're having a hard time dealing with the world, I really recommend this. Find your happy place and light some of this up. You're worth that much.
.
.
.
#tenfourfarms #cookiesorbetter #pdxcannabiscommunity #pdxweed #pdxcannabis #portlandweedreviews #OMMP #portlandcannabis #oregonweed #portlandcannabiscommunity #oregoncannabiscommunity #oregonweedreviews #420life #strainreviews #pnwstoners #weedreviews #strainreview #420review #420lifestyle #iloveweed #justblazeig #weedstagram420 #higherthanmost #weshouldsmoke #wedontsmokethesame