Strain Review: Project 29 by The Canopy Co.
'Project 29' / 🍬⛽️
Lineage/Genetics: (Triangle Kush x Chem 91 x Jet Fuel Gelato x Fire as Fuck)
Original Breeder: The Canopy Co.
Grower: The Canopy Co.
Terpene Profile: Unknown
Project 29 Cannabis Cultivar (Strain) Review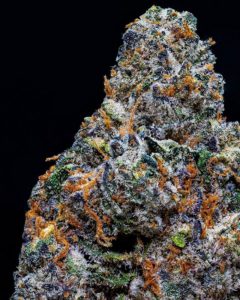 Good afternoon to all you lovely stoners out there! I hope that those of you who hit up @product_earth last weekend had a blast, and to those who couldn't make it; I hope you stayed blessed and baked as per usual 🙏🏻 Today we have a rather interesting strain sent in by the man @hoodpackz_official – 'Project 29'. Bred and grown by @thecanopy.co – this unique hybrid flower boasts a pretty long lineage of powerful genetics that all together produced a quality smoke 👏🏻
After opening up the pack I found that on the nose I was getting a sort of gassy, kushy funk from the get go. As I took a few deep breaths I found that this was accompanied by a slight Earthy and musty undertone toward the end. After grinding some up I noticed that the more gassy notes had an increase to their 'loudness' in the general aroma; almost taking the spotlight. After rolling some up I took a few dry pulls to get a good sense of the flavour.
On the dry pull I noticed that I was mostly getting what tasted like Sherb terps, however with a twist of Gelato too, as well as a herbaceous bottom note. After sparking up my joint I started to taste some prominent notes of Earthy gas, still carrying those funky Kush notes that I found in the aroma. Likewise, there was an accompanying herbaceous and musty undertone as on the aroma, but as the joint burned on I started to pick apart some pretty unique flavours…
At first some light hints of sweet green apples, but towards the end of the joint some notes of bitter dark chocolate. The overall flavour certainly had a rather deep complexity of notes to it – what with the noticeable change in the flavour halfway through my joint and onwards to the end; I found it to be quite the unexpected surprise! As for the effects, I felt them starting to settle in perhaps a third of the way through my smoke – coming on lightly, leading with a bit of a steady head high.
After a few minutes I started to feel a sense of euphoria and a mild rush of energy – I felt somewhat in a productive and sociable mood. Not long after finishing my smoke I began feeling pretty relaxed but not sedated. The cerebral buzz continued nicely leaving me focused but chilled out – a perfectly balanced high in my opinion! This felt like a great choice of flower for any time of day, although with its calming body effects I'd imagine after a few of these babies in a row you'll be in a bit of a state of couch-lock!
All in all I thought that this was a very nice strain indeed, certainly a vibrant cross of genetics – I'd be very interested to see how the expressions changed through the different phenos! What with the tasty flavour and well balanced effects, this is definitely a strain I'd recommend to anyone looking for a great smoke to enjoy around the clock. I look forward to trying some more buds from @thecanopy.co in the future! 🔥
🧬🌱 @thecanopy.co 🔌 @hoodpackz_official #project29 #strain #thecanopyco #dankshots #420vibes #nugshots #macrophotography #cannabis #weed #thc #cannabiscommunity #trichomes #cannabisculture #420 #weedstagram420 #cannabisphotography #weedpics #weedporn #premiumflower #nugshot #macroweed #nugmag #whiteashgang #weedworldmagazine #hightimesmagazine #skunkmagazine #leafly #weedmaps #macrocannabisphotography #thebudstudio
Advertisements