Strain Review: Spark Magician Girl by Babybuckettt
Spark Magician Girl ⚡️ 🪄.
Lineage/Genetics: [LCG X Sprinklez#1 X G#41]
Original Breeder/Grower: Babybuckettt
Terpene Profile: Unknown
Spark Magician Girl Cannabis Cultivar (Strain) Review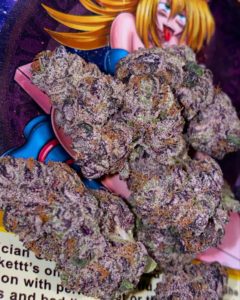 Powered By: @babybuckettt
Cultivated By: @babybuckettt
Assisted By: @12alarmfire
Class: Branded Exotic [SoCal]
Flavor Line: Egyptian God Cards
"Another Fake Runtz Killer, Freak Bitches"
– BabyBuckettt
SMELL | FLAVOR:
Next pheno on the list, cracking this open is different in sorts. The genetic makeup of this one is more simple than the other ones, combining basics like Gelato #41 and the first Sprinklez but I found that it's for some reason more pleasurable in scent. The aroma is like so wase we eee LCG times ten, with this deep funk on the end of it. You instantly notice the difference when the citrus hits your nose more natural than candy-like. In the first strike, the candy depth hits your taste buds, and is instantly washed away by these terps of slight sweetness, lemon, and octane gas.
THE HiGH:
Pearled that up in a 1.35 organic raw hemp and filter tip. In the first few hits, that power rockets up the back of your neck muscles and gives your brain an uplifting buzz. It's definitely got some extra gas to hit you in the chest, and will keep you mentally buzzing for a bit. Halfway through, those terps start stimulating your muscles full body, and you might find yourself in a weird hippy-high state. As you get most of the way through, the terps will get right under your eyes and start dragging you down comfortably. I found myself smoking this often as the perfect morning smack, with a 2-3 hour longevity, for an indica lover it's a cup of coffee and a dope mood booster.
Dope's THOUGHTS:
So far, my favorite in strike out of these SprinklezXGelato cuts, the separation in hit and aroma from usual candy is unique and gives more of a stand alone personality. I've smoked a lot of BabyBucket flowers but these new Card packs are where my favorite genetics of this company is. I think they found their niche, not only with the new packaging but also keeping things gassy and different.
Strange in composition, this gets a bit of a better rating from me 8.8/10 for its performance 💯
#DOPAMINE
#cannabis420 #cannabiseducation #cannabisismedicine #cannabislove #cannabisdestiny #cannabisconnoisseur #canadiancannabis #organiccannabis #cannabisart #cannabisreviewsmd #cannabisreviewsfl #cannabisreviewsam #strainreview #strainreviews #smokereviews #dopethereviewer #exoticsnacks #dmvcontentcreator #dccannabis #virginiacannabiseducation #f4f #smokers
DOPE, THE REVIEWER!
Now Featured on The Highest Critic ⭐️
Young Mogul 👺 DMV ‼️
Culture Artist & Cannabis Reviewer. Creator of // #DOPAMINE 🧠
Advertisements