Strain Review: Tractor Gas by North Country Pharms
This strain is the Tractor Gas that North Country Pharms uses in that big black tractor.
Lineage/Genetics: Lemon Fuel x Gelato 41
Original Breeder: Unknown (Alien Labs?)
Grower: North Country Pharms
Terpene Profile: Myrcene Dominant
Myrcene 0.31%
Limonene 0.24%
Beta-Caryophyllene 0.18%
Ocimene 0.16%
Tractor Gas Strain Review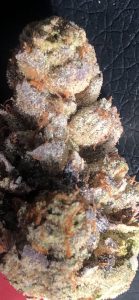 The Tractor Gas has some insane citrus dimensions that are tempered by an even of-this-earth floral aroma. As soon as you break it up, though, that's when the alarms start going off. Gas leak!
The taste doesn't linger too long when it's combusted, but it does more when vaped.
As people may know, tractors go slow – but oh do they go – just like this high. Bear with me. This is like throwing it in first gear. There's downforce keeping you grounded but also a driving force forward.
The onset of the high creeps and frankly it leaves in the same way. This strain is a hard hitter. Maybe don't start your Monday with it unless you know what you're doing.
PS: This is my new favorite Monday strain!
Tractor Gas Pre-roll Review
The Tractor gas is also available in a pre-roll
So i have this thing i do when i have a dispo pre-roll to check out. Open up the tube, turn it upside down, and see if the doink is skinny enough to slide out.
North Country Pharms' doink is big enough to get stuck, check!
The rollier did have a single popping seed I wish I'd taken out to keep. Guess that's one reason to open pre-rolls to put in a bowl!
In summary: hit the strain however you want. Just be ready.
Certificate of Analysis (COA): https://share.confidentcannabis.com/samples/public/share/7484368d-8d24-4f69-bf77-24720d4df3fc
More info: https://www.northcountrypharms.com/
Advertisements