Strain Review: Weedasaur by Babybuckettt
Weedasaur 🦖🍃☘️
Lineage/Genetics: [Sprinklez #27 X Sprinklez]
Original Breeder/Grower: Babybuckettt
Terpene Profile: Unknown
Weedasaur Cannabis Cultivar (Strain) Review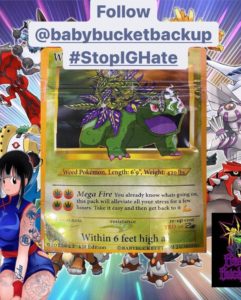 __________________________
Powered By: @babybuckettt
Cultivated By: @babybuckettt x @12alarmfire
Class: Branded Exotic [SoCal]
Flavor Line: Smokémon ⚡️
SMELL | FLAVOR:
As you crack open the bag, you're treated to a symphony of funky notes. Z-terps, kush, along with the sweetness of gelato and cookies stacked on top. It's definitely a very dank, very pungent flower. Trichrome amount is crazy on it, and came through really sticky trich wise. As you pearl it up, you'll notice the kush terps taking over the flavor and relaxing on your palate. This flavor leads up to the first strike and the first few pulls, creating a potent smoke to revel in.
THE HiGH:
After the first three hits, you'll feel those body-based terpenes clash against each other and start going to work on your mental. You'll get this wrapped relaxant around the base of your head, as well as under your eyelids. Halfway through the smoke, the Myrcene in the flower pushes itself outward, allowing a deepened relaxation to hit your back muscles and legs. At this time your eyes and mental both feel heavy, as walking through a thick fog. This is a very medicated feeling, and this flavor would pair perfectly with those who need a no-bullshit knockout. For indica lovers like myself who enjoy a heavy smoke through the day, it's purely pleasurable.
Dope's THOUGHTS:
Some real pressure is in store. Flushed properly and naturally hits heavy. Definitely a dream for you who likes the smoke to drag you down and keep you there. Definitely one for the favorite pile.
This gets a 9/10 from me 💯
#DOPAMINE
.
.
.
.
.
.
#captioltheater #cannabisreview #cannabisreviewcanada #cannabisnetwork #cannabisbrasil #cannabistalk #cannabisreviewermd #cannabisreviewsfl #cannabisreviewsam #cannabisreviewslv #cannabisreviewnyc #cannabistikkaa #westcoastcannabis #designercannabis #exoticgrown #stonerlifestyle #puffpuffpass #legalize #marihuanalegal #legalizemarijuana #cannabis #420everyday #420family #weedculture #cannabisculture #cannabisnft #nftgallery #cannabislove
DOPE, THE REVIEWER!
Now Featured on The Highest Critic ⭐️
Young Mogul 👺 DMV ‼️
Culture Artist & Cannabis Reviewer. Creator of // #DOPAMINE 🧠
Advertisements