Strain Review: White Runtz by Gage Cannabis
White Runtz 💜
Lineage/Genetics: Zkittlez x Gelato
Original Breeder: Runtz
Grower: Gage Cannabis
Distributor: Cookies Enterprises
Gage Cannabis White Runtz Strain Review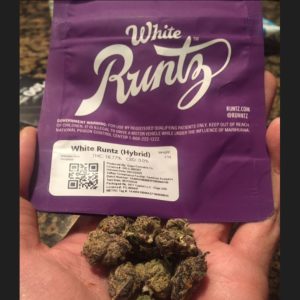 I'm sure most connoisseurs have had this in their arsenal at some point and now I know why.
White Runtz changed the way I think about THC percentages. At just 16% this thing packed a bigger punch than a few upper 20s I smoked recently.
The flavor is super gassy ⛽️ super potent diesel with strong notes of 🍇 grapes. The purple on the nuggs took me back to when I first had a purple kush super tasty and sticky. It gave a great head high that keeps your mind awake while the rest of your face droops down into 🤮goo.
Definitely a staple from the @runtz @whiteruntz fam and a must pick up l, I know ill be grabbing this one sometime soon.
White Runtz 💜 gets a solid 9/10🔥
————
#runtz #whiterunz #cannabiscommunity #gagecannabis #cookies #legalcannabis #medicalcannabis #cannabis #terpenes #thc #sativa #indica #topshelf #quality #dispensary
@gagecannabis @cookiesenterprises @runtz @whiteruntz