Strain Review: White Truffle by 9 Mile Farm
White truffle
@9milefarm
#californiaherbsman
Lineage/Genetics: Gorilla Butter F2
Original Breeder: Fresh Coast Seed Company
Grower: 9 Mile Farm
Terpene Profile: Unknown
9 Mile Farm White Truffle Cannabis Cultivar (Strain) Review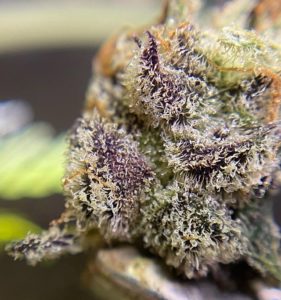 Stricter scoring in effect still. The high quality macro photos are on @cali_bud_reviews2.0 (the slideshow is ig distorted and cropped)
Aroma: B+
Hershey chocolate terps mix with an earthy 'forest floor' terp. Pine-mint mixes with doughmint to make a heavy pine diesel menthol. breaking nugs reveals a slight lemon gassy freezer burn layer, & light skunk. Very similar to oreoz. It again has hints of the barley hops corn soy veggie creamy layer which whenever I find that terp in a brand, most strains have it like a signature. (Fb also)
Appeal: A-
An even mix of glowing green, neon purples, and dark purples are coated in an impressive layer of clustered trichomes. Long wavy and big heads. Some fuzzy coverage, open organic look, calyxed out. Insides show dense layers. Fire orange pistils of medium length in medium presence. Small squat triangle shapes. I smoked some of the smalls previous to this review. 9-11 nug eighth. Cure was semi dry flower, with medium stick from the trichomes, lightly greasy on break. Soft, semi sticky. Semi moist. semi dry. Aftergrind shows the genetic has some lil stem hangings on each lil leaves..
Burn A Taste B
Great burn, pure white ash, nice fat oil solid terp ring. Pleasant. But with that oreoz profile, some would say oreo terps are bland but I enjoyed this combo of dough-mint, pine-menth-diesel, but nice Hershey chocolate terps, some herbal spice, earthy forest soil, hidden lemon gas, and some hops barley veggie cream.
Effect: A- Potency B+
Stoney, relaxing, calming. Couchlock-able. Lil euphoric, but cloudy.Finishing the cone was easy but it supplied great head & body change, decent meds for pain and sleep, 2.5 hour buzz ends rested, sleepy and hungry.
Overall B++ / A- –
Excellent quality grow, great appeal & great burn. But Oreo type terps are not my pref however this was dialed in af & was Very enjoyable and really shows 9 miles potential to grow bangers. This genetic is lil better than oreoz terp wise.
Nothing is for sale!
#calibudreviews #9milefarm #whitetrufflestrain #strainreview