Cultivar Review: Gelato Icee from Dank Dabs
Gelato Icee – @dankdabs_1
Nose: Sweet, cakey, doughy, fuel, creamy, musty, nutty, burnt rubber
Inhale: Musty, creamy, fuel, doughy, earthy, fruity, spicy, candy
Exhale: Gassy, doughy, cakey, fuel, floral, creamy
Lineage/Genetics 🧬: Gelato 41 x Ice Cream Cake
Bred by: Undisclosed
Cultivated by: Undisclosed
Terpene Profile: Unknown
Gelato Icee Cannabis Cultivar (Strain) Review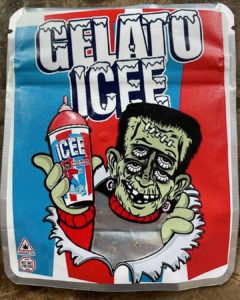 Hey what's up everyone? Hopefully you all are sitting in some nice AC room right now because it has been HOT as hell out. We are concluding the week but I have another review to bring to you all. A lot of you already know Danks Dabs a regular on the review page even though it has been a few months since I've had the chance to dabble in some offerings by him. I recently picked up some Gelato Icee he was teasing to me stating that it was cross between Gelato 41 and Ice Cream Cake. Not having any knowledge as to who the grower of this batch was, I wasn't too confident in my findings on the internet to who the original breeder was. Therefore, I have left both blank but the way this one was presented to me caught my eye. And hey, who doesn't like to see two or their favorite cultivars come together to make one? Let's waste no more time and get into the facts.
I received the Gelato Icee in a standard, square Mylar bag which presented a spin-off on the ICEE drinks a lot of us (including myself) grew up with. It usually takes a lot to garner my interest when it comes to replicated bags, mainly because of copycatting, but I did find this to be exceptional. For me, it was the small details including the dank dab mascot surfing within the logo on the drink that the large Dank head is holding. Between that and the nostalgic colorway I would personally say the bag appeal was there. Apart from this, I would say the only other thing that stood out to me on the bag appeal was the rugged material used for the printing label. Overall, solid.
When I sparked the Gelato Icee in an Organic RAW, I immediately honed in on the distinct ICC features due to the lineage off the initial inhales. Heavy layers of doughy, cake terps washed off with a smooth earthy finish set the tone early on the sesh. On the way out, I retained the moderately gassy appeal brought about on the inhale accompanied with those same caked up terps sporting a creamy finish. This didn't leave you second guessing about the cross of this cultivar at all. About a 1/4 of the way into the sesh, I felt notes of spicy guava and vanilla hit my lungs giving the smoke a fruiter flavor at this stage. It didn't take me long to get a taste for those delicious creamy terps filled with z. Right around halfway through with the joint is when my mouth started to tingle from the change in flavor this cultivar offered. The burn was somewhat slow oozing up with oil at certain point, however; still managed to give me a pretty good input nonetheless. Not to mention that this burned a thick lighter gray to whiteish ash as well as a fat terp ring around the top of the joint. As the sesh carried on I noticed the burnt rubber and spicy terps heat up reminiscent of Bacio. I think the flavor didn't miss on this one despite a slight loss towards the finish due to the joint being caked up with resin. Personally, I couldn't get enough of the flavor on this batch of Gelato Icee although I thought the overall power this put out could of used a slight bit of dialing.
The onset of medicinal effects provided from the Gelato Icee was definitely more along the lines of a couch locker. Although this took towards the end of the sesh to about 10 minutes after concluding to kick in, the initial effects left me a bit hazy. It included a deep-tissue message/bone rubbing that alleviated any immediate pain or symptoms I was feeling at the time. While I maintained good awareness as well as a keen perception the motivation to do stuff wasn't there.
6d2 likesReplyOnce I opened up the seal on the package that contained the Gelato Icee, I was met with a fresh and creamy pastry-like odor that gave of hints of vanilla pound cake and diesel. On the gassiness scale this definitely threw off a solid 7-8 volume level as that sweet, creamy odor reminiscent of ice cream cake hit my nose. I could also sense this one throwing off undertones of floral and burnt rubber giving it a particular edge acquired from the Gelato 41 parent. The nugs looked promising when I poked my head into the bag and even more so once taken out. Made up primarily of darker purple hues as well as an eye-capturing covering of powdery triches the aesthetics were certainly there on the Gelato Icee. With minimal damage from transport, it was easy to make out the overabundance of pistils as the leaves were pressed amongst the surface in this case. As I held a couple medium-sized nugs up to my nose I could gained a sense for some of the nutty and earthy aromas this cultivar offered. The texture while in hand was hard, sturdy nugs that gave off a mildly sticky appeal. Once broken apart the buds provided a nice snap displaying ultraviolet colored guts within exhibiting stronger notes of fuel and dough. I also noticed the notes of burnt rubber pick up as well. Due to the balance of stickiness and softness each bud held, breaking this up led to an ideal yield. Upon taking a dry pull from the joint I received subtle notes of creamy vanilla cake and fuel giving me a well-rounded dessert flavor.
This made it ideal for roofdeck use at the apartment on some of those more tolerable summer nights recently. About a half hour to 45 minutes I felt extremely calm and unbothered enjoying this cultivar within the company of myself. This could attributed to the fact that I wasn't overly social while under the influence of this cultivar. Additionally, I noticed slight paranoia settling in later on as it caused an increased heartbeats and enhanced noise around me. Luckily, the paranoia came and went quickly as I spent the remaining 30 minutes of the sesh relaxed and carefree. All in all, the total duration in which the medicinal effects were present was around an hour an half. I wouldn't say this was the most memorable but definitely got the job done.
After having a chance to try the Gelato Icee which was assisted by Dank Dabs I personally thought it came with a fair split of strengths and weaknesses. Coming out of the bag I thought the buds looked healthy and pleasing to the eye while carrying a very indulgent nose. Personally, I believe the terps thrown off during the sesh was the highlight of the total experience even though I thought this could've packed a better punch than it did. With that being said I don't think this will pose too many issues for less experienced smokers looking to dabble in a newer terp profile. While the smoke was enjoyable I didn't think the effects were anything to write home about from my perspective. Even though I was a fan towards the degree of eurphoria this put out I think the paranoia that set in randomly throughout the sesh broke up a relatively smooth experience. Despite this, I still feel like this is going to be beneficial to smokers who are seeking any type of pain relief or are dealing with work or sports-related injury. Although I did not favor this as much as past offerings (such as the Blue Sherbet and Pure Michigan) I still think this did the job for those times I was in the mood for something sweet. I want to thank Dank Dabs for getting this to me and inevitably I'll have more up from him sometime in the near future.