Strain Review: Wedding Cake F2 x Gelato 41 by Dream Farm
WEDDING CAKE F2 X GELATO 41
LINEAGE/GENETICS – Wedding Cake F2 x Gelato #41
ORIGINAL BREEDER – Seed Junky Genetics @seedjunky_jbeezy
GROWER – Dream Farm @420_dreamfarm
CLUB – Green Heaven @greenheaven_socialclub
Wedding Cake F2 x Gelato 41 Strain Review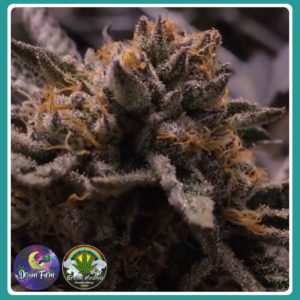 LOOKS – 9/10 – Very dense and compact with darker greens and purple colours. A heavy coverage of frosty trichomes give this bud some amazing bag appeal.
SMELL – 10/10 – Extremely gassy aroma. Wedding cake is the first thing I noticed on the nose however this is a really unique blend and the sweet gelato aromas can be found when the buds are cracked and ground.
BURN – 6/10 – A little bit of a let down with the burn and this one could be a little cleaner in my opinion. However I only had to light the joint one time and it burned nice and consistently to the tip.
TASTE – 8/10 – Super gassy wedding cake flavours engulfing my pallet on the inhale and then on the exhale this becomes a more sweet and creamy, gelato type flavour. A very good blend of terps.
EFFECTS 8/10 – very strong, relaxing and mellow high.
OVERALL – 41/50
#strainreview