Edible Review: Chocolate Joints by Los Porritos
LOSPORITOS 600MG – Fast Acting Sublingual Formula – Chocolate Joints –
Brand: Los Porritos
Los Porritos Chocolate Joint Review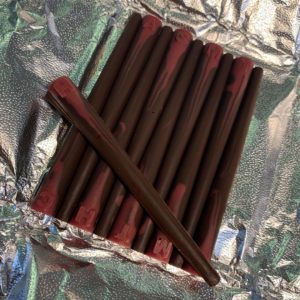 Presentation – 10/10 – Nothing less than top marks for the presentation and packaging of this product from @losporritos . The super slick custom packaging and eye catching design are on another level. Even the material used for the packaging has a very high quality feel to it. Inside the box the quality is clear again and the attention to detail, right down to the design of the chocolate bar and the sticker pack inside really make the difference and product could easily have come straight from the shelf in a top Californian Dispensary.
Taste – 10/10. – Instantly it is clear that this is a very good quality chocolate and the small sweet raspberry pieces inside really finish it off nicely. With little to 0 weed taste. I'm really finding it hard to pick a fault with this product so far.
Effects – 10/10 – The effects started relatively fast and were super intense and intoxicating. My whole body became relaxed and my breathing started to go from automatic to manual. This lasted around 5/6 hours and during this time I had two moments where I thought to myself "maybe I had too much" as the sweat was starting to form on my brow.
Really recommend these edible for anyone just maybe not 600mg, I heard from @losporritos this is the recommended dosage for an elephant.
If you don't already check out their page, they have an awesome range of products and they are always working on new creations..
Thanks again to the @losporritos wizard we finally found a true 600mg edible after all.
.
#losporritos #eat2joints #acmthc #600mgedibles #topshelfedible #strongedible #fastactingedibles #tenerife #chcolatelover #thcmedicated #highthc #chocolatejoints
Advertisements