Marty Clein from Martyjuana™ stays true to the flower
If you're a heady marijuana person, chances are you've heard of Martyjuana™. Whether it's a feature in your favorite cannabis print magazine or book, this Round Valley farm deserves all the recognition its been given. The first product I ever tried from Martyjuana was their Alien Cookie Walker bubble hash which I got at the Kind Bud Campout. Many months later I saw the eponymous Marty at Emerald Cup and was enthralled with his vintage cannabis demo at the Mendocino Cannabis Shop booth. Much to my delight, he agreed to an interview and here we are.
Brand: Martyjuana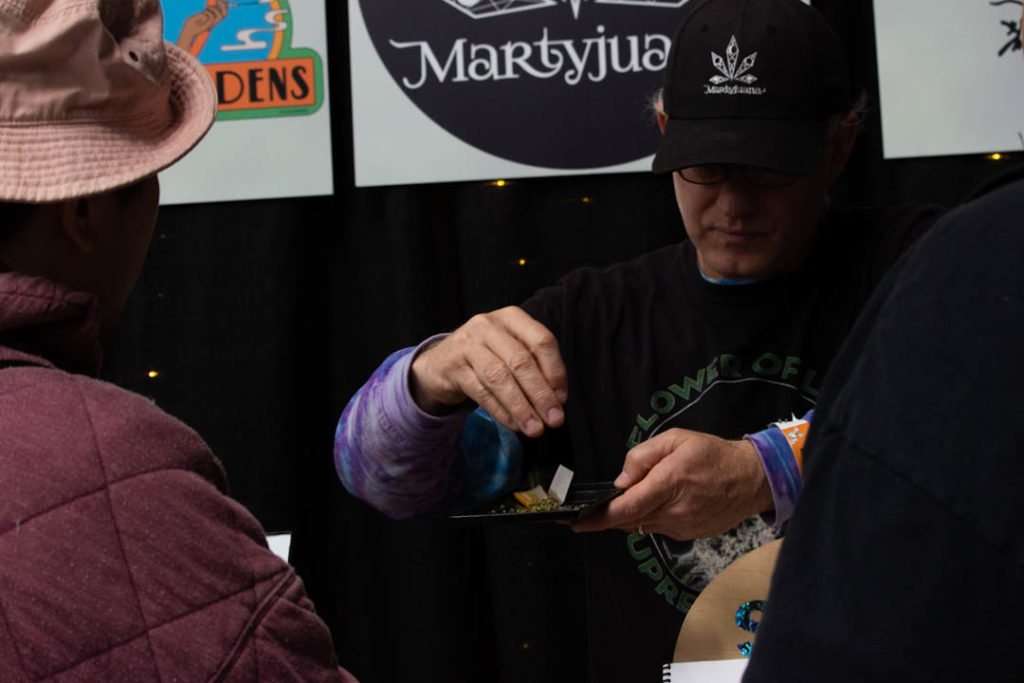 We shared some words on vintage cannabis, new cultivars in The Martyjuana™ Garden, and got a glimpse of the Marty behind Martyjuana™. Without further ado, here's the interview.
The Highest Critic Interview with Martyjuana™
Can you share a little with us about your history with cannabis?
What's the oldest cannabis product that you've consumed and how? How was it?
Flower, it was 4 or 5 years old. More sedative and relaxing.
What are some of your favorite cultivars?
Supreme – Northern Lights #4 x Super Skunk #1
Church – Bubba Kush x OG Kush
Jokerz Gelato – Jokerz 33 x Jet Fuel Gelato
Supreme Dream – Supreme x Blue Dream
What is your preferred method of consuming cannabis?
Flowers in a grinder, and roll a joint. Sometimes flower and hash in a glass pipe.
What is the most delicious food and cannabis pairing you have experienced?
Good question, the most important is SET and SETTING. SO, there are tons of answers here. LOVE is CANNABIS!!!
How would you describe your mission and vision in the cannabis space?
Stay true to the Flower, Cannabis is medicine, it makes people feel better. It's okay to feel better.
What are you working on nowadays?
Continuing to refine the process of the Farm, to become more sustainable and deepen our understanding of regenerative Farm practices.
Would you like to share a funny story from the legacy days?
"You never know who is going to knock on your door…", ALL WAYS and ALWAYS be prepared. Some hard stories, have fun ending, look at me, I own a Regulated Cannabis Farm in Mendocino County, in the world renowned Emerald Triangle.
In the classic /r/trees scale of 1 to 10 high, how high are you right now?
I like to run at 8. Infinite possibilities…
I heard your farm almost burned down one time and you were saved by fellow growers – can you tell us more about that story?
FIRE is really, and it is dangerous. The August Complex Fire was 1.5 Million Acres, largest Fire in California HIstory. Very difficult times for EVERYONE.
How have you seen cannabis events evolve over the decades?
Events are just ways to Network! They are good, if you make the best of it, collect business cards, and tell your personal Story.
I saw Martyjuana's™ feature in Ed Rosenthal's book – what was it like to get that published?
I have known Ed for a while now. My wife and I have been in California for over 20 years now. I grow exceptional Flowers in a unique way, and have a compelling Story.
Are there any other projects, yours or others, that you'd like to shout out?
I have signed a 5 year contract with CDFW and Sun & Earth Certified, to direct and fund a journey towards sustainability. The support will be above and beyond growing Cannabis Flowers. Very excited to have them onboard.
Is there anything else you'd like to share with The Highest Critic readers?
One of my new Cultivars…
Thank you Marty, for the links and insight. THC readers, stay tuned for more content with Martyjuana™.
Advertisements