MCA 2023 Pledge of Alliance Drive Comes to Philo, CA on May 28th
FOR IMMEDIATE RELEASE (Anderson Valley, Mendocino County, CA) – The Madrones and The Brambles will host the launch of the Mendocino Cannabis Alliance (MCA) 2023 Pledge of Alliance Drive this Memorial Day Weekend. The event kicks off at The Madrones with a 21+ Mendocino Craft Cannabis Marketplace powered by local retailer The Bohemian Chemist from 12 – 6pm with over 15 small batch farms. After the market, just down the road at The Brambles beginning at 7:30 we will present a screening of Tending the Garden – a regenerative cannabis farming documentary that features MCA member Radicle Herbs, who will be in attendance with directors Claire Weissbluth and Jesse Dodd.
Michael Katz, Executive Director of MCA, said:
"The Pledge of Alliance launch event is a chance for supporters of small batch craft cannabis in Mendocino to directly connect with some of our incredible local farmers while also helping to ensure MCA can continue our essential advocacy and market access work on behalf of our members and the entire community. We're grateful to Jim Roberts and Brian Adkinson of The Madrones, The Brambles and The Bohemian Chemist for inviting us to share their beautiful spaces."
Mendocino Cannabis Alliance announced the jam packed day on Instagram:
"Get ready for some fun!

Memorial Day weekend join MCA and Members @thebohemianchemist at @themadrones and @the.brambles for a day full of Mendo crafted offerings! 🙌

First at @themadrones from 12-6 will be a craft [email protected] marketplace and consumption lounge featuring 20+ of Mendocino's world-renowned small farmers.

Then at @the.brambles starting at 7:30, perhaps after a delicious dinner @wicksonrestaurant, we'll be hosting a screening of Tending the Garden featuring MCA Members @radicleherbs as a fundraiser for MCA thanks to the generosity of filmmakers @la_osa and @biovortex 🙏🎥 tickets for MCA Members are $10, and non-members are $20.

Pick up yours now at the link in our bio or at:

https://www.eventbrite.com/e/625780475247

We'll also be showing short pieces from @thebohemianchemist and a collaborative commercial for Mendo cannabis produced by MCA and @visitmendocino. 🌱🙌

It's high time for a community get-together. Join us for a great time and simultaneously support MCA's advocacy which supports the Mendocino cannabis community. It's a win win win!

#strongertogether #WeAreMCA #AndersonValley #philo #visitmendocino"
About 2023 Pledge of Alliance Drive
More information on the MCA's annual Pledge of Alliance Drive Launch Event can be found on their website:
https://mendocannabis.com/events/mca-cannabis-marketplace-and-screening-tending-the-garden/
About Mendocino Cannabis Alliance
The Mendocino Cannabis Alliance (MCA) serves and promotes Mendocino County's world-renowned cannabis cultivators and businesses through sustainable economic development, education and public policy initiatives. For more information, please visit the MCA website.
MCA 2023 Pledge of Alliance Drive Full Flyer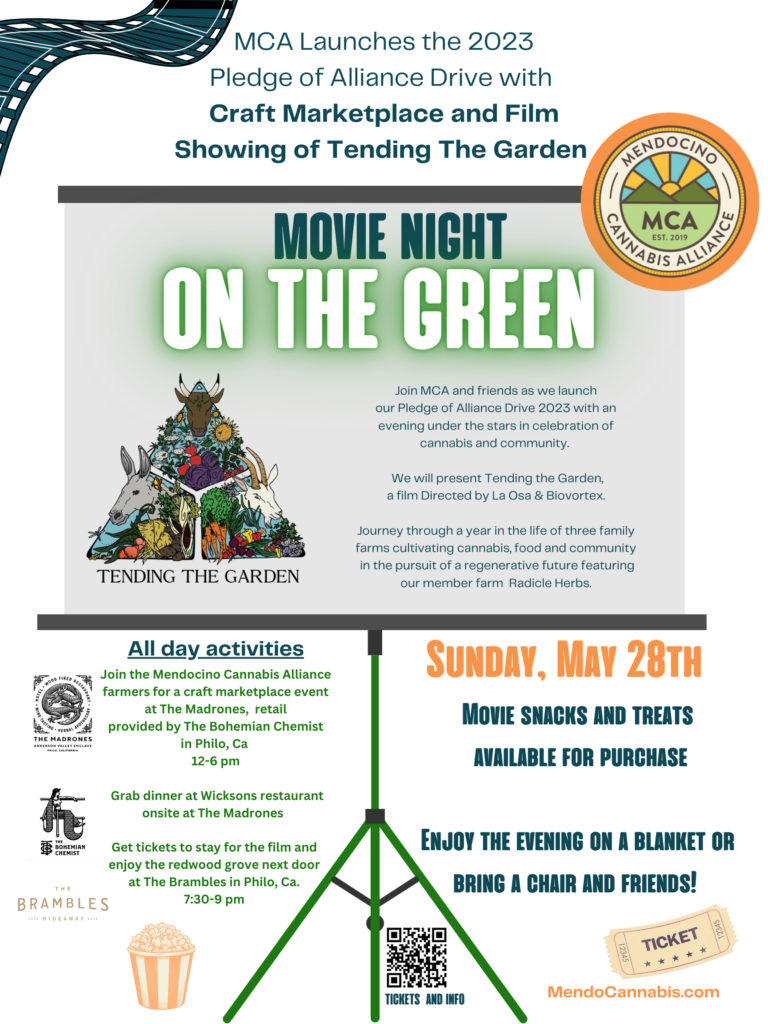 The Highest Critic Newswise features the latest cannabis industry news releases and press releases.
Advertisements