The road to North Country Pharms' Golden Bear Award
My first time hearing about North Country Pharms (NCP) was via sjweedreview – San Jose's most based reviewer. Months later I met Ben – via Clubhouse of all places and before long, seshes started occurring. More months passed and I found myself walking into the CA State Fair cannabis awards building and seeing a shiny award front and center at the entrance. It said, North Country Pharms – "Tractor Gas."
I said: "ooooo, I've tried that!"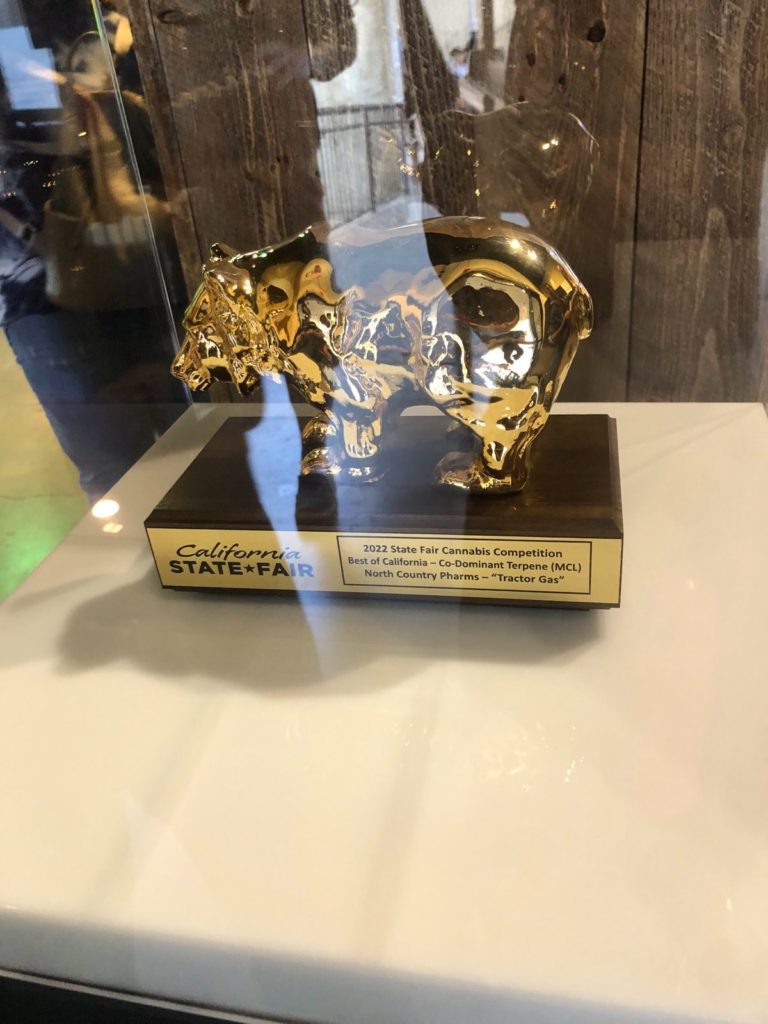 The rest of the award explained that NCP had won the co-dominant terpene award (Myrcene, Caryophyllene, and Limonene) in the Indoor category. Check out the Tractor Gas COA here.
It's 2023 now and it has been awhile since my last batch of Tractor Gas. I'm running on empty, you could say. A perfect opportunity to catch up with NCP to get some deeper info on the Tractor Gas and demystify the process of prepping for, entering, and winning the CA State Fair Cannabis Awards – which are still taking entrants until May 19th.
North Country Pharms Interview on Tractor Gas
How did North Country Pharms get its name?
We are from Norcal and love our area, and we were a medicinal cannabis company so we figured we would put a pharmaceutical spin on the farm. Our logo is a tractor. It's a symbol to honor the farm because ultimately we are farmers.
How did Tractor Gas end up with y'all?  
The cut was acquired in a clone trade. We were asked to rename it.
Where did the Tractor Gas name come from?
The name comes from the flower's gassy nose and light purple/pink hues.  Agricultural diesel fuel has a pink dye and you know how loud it is.  All of us at the farm love the terps in Tractor Gas as it keeps us running, so we figured it was an appropriate name for the strain and onpoint with the brand.
Why did y'all enter Tractor Gas into the CA State Fair? 
We entered it because it's a favorite at the farm and we know it's a high tester in all categories.
What medium do y'all grow in?
We grow in Coco
What kind of lights do y'all use? 
We have different lights in different rooms.  We have several Hps rooms and Several led rooms.  We try and find what works for each cultivar and like to have variety
What can y'all share about your inputs?
We have tried a lot of different inputs and try to use what works best for us.  We are always looking to improve and adapt to an ever changing industry.
How long does she [Tractor Gas] take to flower? 
63-68 days
What fun facts about the batch of Tractor Gas might people not know?
It will get you lit like the beam. She's grown in Sacramento and proud of it.
What is North Country Pharms' philosophy when it comes to choosing which strains to grow? 
We love to smoke so we choose what we prefer unless the market decides otherwise.
Do you feel that North Country Pharms' success would be anywhere near as large without the legacy experience of its employees?  
The experience gained over the years has definitely helped us succeed.   We continue to grow and learn every day.  Our determination and passion is what drives us.
What was the reaction like at HQ when y'all found out about the win?  
We were very excited to win at the State Fair.  We still celebrate the win.  Honestly……we didn't think we would win.
Any tips for brands hoping to win a Golden Bear Award? 
Grow, sell, smoke!
Advertisements