Edible Review: Moonrocks by Spark
Spark Moonrocks by Aspire Infusions
Packaged: May 16, 2023
THC per unit: 10mg, 150mg/package
Units per package: 15
I  wanted to love these Moonrocks but I bought them thinking they were something completely different.  I was not pleasantly surprised and I've tried consuming these Moonrocks 3 different ways to improve the experience.  Let me explain.
When I saw the word Moonrocks on the bag I was transported to my youth and the Poprocks fad that had every kid crunching on candies that popped and fizzed in your mouth.  They were fun, sweet and came in a range of colours and flavours.  What made me think that Moonrocks would be anything like the Poprocks remembered so fondly, I don't know.  I guess they sound kinda similar.
Unlike pop rocks, these did not fizz, nor were they sweet.  The first time I chewed one, they were so awful and bitter, I almost spit it out. That bitter taste lingered too.  It was then that I took a closer look at the package and realized that these were tablets that looked like the moon and I was supposed to take them with water.  I could only conclude then that they were not meant to be chewed but rather swallowed.  The next time I took one, I did so, but without the recommended water.  Letting these things sit on the tongue for longer than a few seconds leaves a bitter taste once again, so I finally took one and swallowed it immediately with the aforementioned water.  A little better but not the fun candy I took it to be.  In fact as tablets, they're pretty boring.
The one plus is that there are 15 tablets in the package at 10mg each tablet so they found a way around the ridiculous Canadian dosage limits which is really they're only redeeming quality.  The moon like imprint on the tablets do not make up for the taste or lack of creativity.
Rating: 3/10
Pictured below:
What I thought I was buying vs. what I actually bought.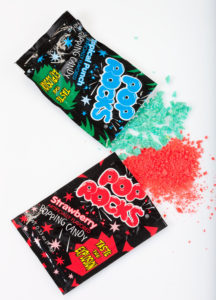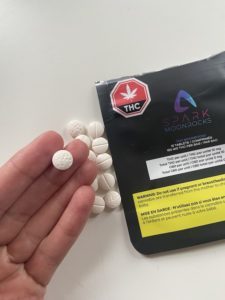 Advertisements