Strain Review: Tropicana Breath #1 by Natural Alternatives
I was blessed with the opportunity to test out a few phenos of @natural_alternatives_foco 's new Tropicanna Breath 🍇 this one is #1 , all cuts were really entirely different in their own ways.
Lineage/Genetics: Tropicanna Cookies x Motorbreath #15
Original Breeder: Oni Seed Co.
Grower: Natural Alternatives
Tropicanna Breath #1 Strain Review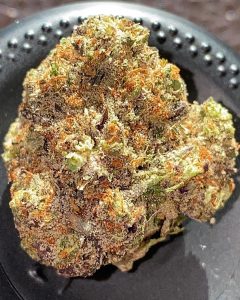 Parents can produce offspring that differs from each other in every way with lots of factors that go into how each filial generation will turn out. Their house grown flower in my experience is impressive, an example that it doesn't take a large operation to put out clean cannabis that can compete with any other available. That doesn't mean every small grow will put out fire, but it's all in the people behind the plant and their passion for it. @cheyanneberardino @rabananda shoutout to your guys' grow team for dialing in with this cultivar especially. Again, all of the cuts of Trop Breath were entirely different. I took notes and decided for this post to keep it refined and simple.
Smell: gas (heavy after the grind), mud, musky grape. I couldn't find dominant terpene content, but if anything I would contribute a lot of this cultivar to Myrcene, linalool and bisabolol. There's definitely a wide terpene profile to each cut but I need to educate myself more before I can give you a full list of terps.
Taste: earth, cream, blanched almonds
Effect: very heavy euphoria, hazy, relaxing, good for pain
I smoked only with a bong and hemp wick, one bowl per pheno, but definitely enough for my body and mind to feel the classic relaxing high. Tropicanna comes through in the overall shell of the high for this one, but is overtaken by its partner in how your head feels. A little bit dumbing and euphoric, likely due to Myrcene.
Advertisements