Emerald Spirit Botanicals x Chemistry Release Pink Boost Goddess Cartridge
FOR IMMEDIATE RELEASE: The latest SKU featuring the award winning high THC-V cultivar from Emerald Spirit Botanicals, PBG (Pink Boost Goddess), is a Pink Boost Goddess cartridge. Made from flower that was grown by Happy Day Farms and processed by Chemistry, this high THC-V cart is ready to rock your world.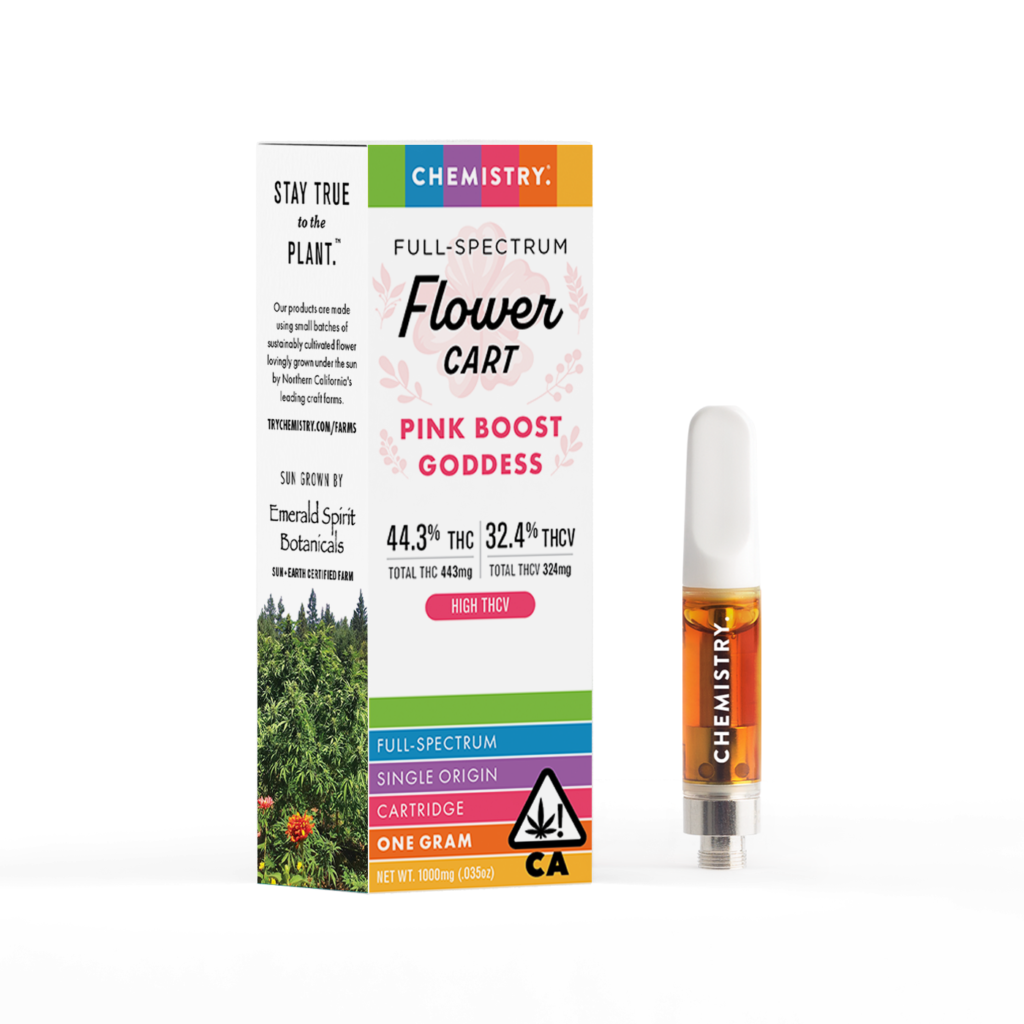 Full announcement from Emerald Spirit Botanicals on Instagram:
"It is with great pleasure that we announce the release of the very first Pink Boost Goddess cartridge!

This represents the collaboration of four incredible groups of people.

After 7 seasons of developing PBG on our farm, we partnered with @breeders.best to help us develop licensing agreements to safely pursue cultivation agreements beyond our farm.

In the first season, we partnered with the incredible folks over @happydayfarms to help us bring additional Pink Boost flower to the world and study this incredible plant on a farm that wasn't ours.

The flower was then sent over to the trusty chemists and friends over @trychemistry to prepare the cartridge.

So many things about this are new and have never before been accomplished. The first licensing agreement for cultivation of THCv rich Pink Boost Goddess beyond Emerald Spirit Botanicals, the first time studying PBG when cultivated off farm and the first time PBG has been concentrated into a flower cart for everyone to enjoy!

Thank you everyone for your ongoing support as we continue to innovate and explore new ways to bring thcv medicine out to the people!

As the folks at Happy Day always say, Great Success!

May this new medicine bring health and healing to all those who try it ♥️🌳🌞"

#collaboration #community #pinkboostgoddess #thcv #greatsuccess
Look for the Emerald Spirit Botanicals x Chemistry Pink Boost Goddess cartridges in:
Solful in Sebastopol and San Francisco
Cornerstone Wellness down in LA
The Higher Path down in Sherman Oaks
Sespe Creek down in Ojai
The Cannabist in San Diego
Pacific Paradise in Arcata
And more to come.
About Emerald Spirit Botanicals
Emerald Spirit Botanicals is a small family farm located west of Willits in the Noyo Watershed. Together, mother and sons work with a vision to bring healing to the earth and humanity guided by the plant spirits. We seek this balance by breeding cannabis varietals with 1:1 ratios of minor cannabinoids including CBD and THCV. More information at their website: https://emeraldspiritbotanicals.com/
About Chemistry
Chemistry makes full-spectrum vape cartridges, tinctures and infused pre-rolls from sun grown California cannabis. The concentrated Pink Boost Goddess  in the cartridge is extracted using Chemistry's proprietary organic solvent extraction. For more information please visit their website: https://www.trychemistry.com/
Advertisements