CBD Cultivar Review: Dream Fuel by Dreamland Organics
This'll be the last craft hemp flower review for Dreamland Organics. All in all, for flower
I received an eighth of the Immortal, an eighth of the Eden, and an eighth of the Dream Fuel as samples.
Lineage/Genetics: Unknown
Original Breeder: Dreamland Organics
Grower: Dreamland Organics
Terpene Profile: Unknown
Dream Fuel Cannabis Cultivar (Strain) Review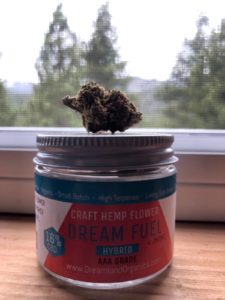 The nose on this was a lot more subtle than the others. Some fruit at the beginning but then the off notes of the fuel and even a little bit of cheese – which is a smell I'm learning might not even be from terpenes?
I broke up a nug by hand and rolled another Virginia slim – not as sticky as the Eden but a very nice tactile that was way more bouncy than the others. I suspect this is a newer batch relative to the others maybe even with higher moisture content because it did go out once.The cure was still proper and all in all DLO flower has been providing the tastiest dry hits I've ever had from hemp flower – and Dream Fuel is no different.
The lit hits were also very litty. Super smooth smoke without any harshness. The cheese funk is the main taste left on my tongue after a hit. The flavor is pretty long lasting and just sits there at the back of your throat.
I felt the effects of this one mostly in my head. Sort of a winding down feeling that i find myself searching for towards the end of the day – or maybe on a Sunday morning. Whether you're day dreaming or night dreaming – here's a little fire to heat it up.
Use code 'THEHIGHESTCRITIC' for 10% off some Eden Craft Hemp Flower from Dreamland Organics.