Strain Review: Ember Mints by Ember Valley
Yee! From a few months back 😂🤦‍♀️
@embervalleyofficial @ember_valley
@trunorcal420_
Brand: Ember Valley
Cultivar: Ember Mints
Lineage/Genetics: Kush Mints
Original Breeder: Seed Junky Genetics
Grower: Ember Valley
Ember Mints Strain Review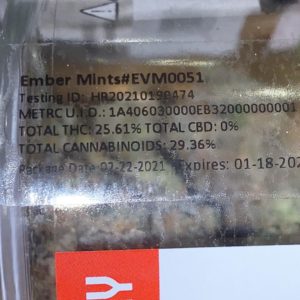 25.61 %THC
29.36% Total Cannabinoids
Comments: Another archived post I forgot to drop. Lol. Leaving it as is. Pics from end of March. Just a few months late 😂🤷‍♀️
Review
1. Scent: Wild mint tea spearmint like on the nose when you crack in the nugs reveal a little bit more of it as well.
2. Appearance: chunky guys, jagged edges but tons and I mean tons of beautiful trichomes n and out.
3. Nug Structure: Pulls nice by hand but using the grinder to save that keif.
4. Smoke: Smoother than expected. No prob on coughing and there are a few warm sensation on the inhale but it's mild.
5. Taste: Minty gas rubbery tones. Very nice. Sticks to the tongue throughout the exhale. Lovely for sure.
6. Reaction: Fast reaction to the mind. Relaxed while the body eases into a nice cloud. Lasts a little longer than other mint cuts at about an hour twenty.
7. Conclusion: One of those brands that you just end up smoking the whole thing before you finish with jotting down all your notes oh my God. I'm a fan.
#NoHashTagz
Advertisements