CBD Cultivar Review: Eden by Dreamland Organics
The second Dreamland Organics craft hemp flower that I'ma share with y'all is called Eden. As in, garden of.
Lineage/Genetics: Swiss Sativa x Dutch Indica
Original Breeder: Super Strains
Grower: Dreamland Organics
Terpene Profile: Unknown
Eden Cannabis Cultivar (Strain) Review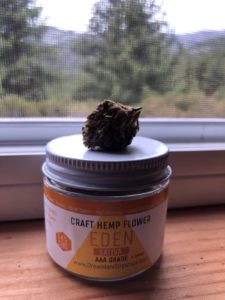 Craft hemp flower from Dreamland Organics.
This one is still fruity – on the melon-y side – but it has a light floral and overripe funk to it.
The Eden was noticeably stickier than the Immortal when I broke it up with my fingers. This translated to a fuller body smoke.
DLO's hemp flowers are very well cured in my opinion. Great burn just like the last one and a notably spicier hit. On their website, DLO notes that Eden is very similar phenotypically to an old school strain called "The Chronic" – I'm dating myself here but I haven't tried it but I really want to now!
This flower was very energizing, more nuanced in taste than the in-your-face grape of the Immortal.
The Garden of Eden has always been an abstraction to me. Without infusing any religious thoughts into my writing, let's take a bird's eye view of what we know about the Garden of Eden from that "good book."
According to lore, every plant species that exists now must have been present in the Garden of Eden. I just want to say that no matter what you believe, cannabis has been around since the dawn of homo sapien sapiens and since I don't have a time machine to go have a smoke sesh with Adam and Eve and the snake – smoking on DLO's Eden is the best approximation that I'll get.
Use code 'THEHIGHESTCRITIC' for 10% off some Eden Craft Hemp Flower from Dreamland Organics.