CBD Cultivar Review: Immortal by Dreamland Organics
The first Dreamland Organics craft hemp flower that I'm going to review is their Immortal strain
Excited to review these Type III cannabis cultivars.
Lineage/Genetics: Unknown
Original Breeder: Dreamland Organics
Grower: Dreamland Organics
Terpene Profile: Unknown
Immortal Cannabis Cultivar (Strain) Review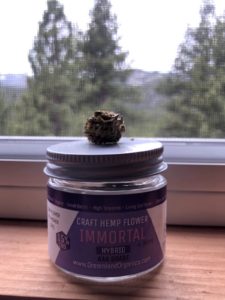 First thing I noticed when I popped open the jar was a very intense fruit flavor. It smelled like I had just opened one of those bags of muscadine candies from the Asian store. I ground up a nug with my fingers and rolled a Virginia slim joint – my developing standard of testing. In the tactile department, the hemp flower wasn't sticky like you'd expect THC laden flower to be, and more waxy instead.
The smoke was tasty and wasn't harsh in the least bit. The slim joint didn't go out at all, which is kind of impressive given its (lack of) girth. This one definitely hits as fruit and sweet.
On their website, DLO pinpoints the terp profile as grape jam – I feel it. Also, if anyone knows where I can get some grape jam that smells this much like mashed grapes and not just purple sugar, please let me know and my tastebuds will thank you.
I did a wake and bake with the Immortal – as a way of starting off my day on the right foot. They say to treat every day like your last, and that's the true path conquering humanity's natural fear of mortality. My body and my mind were quite assuaged – it was almost numbing to my body. This smell, taste, and effect are going to live on in my mind. Guess that's one definition of an Immortal strain.
If you're looking for a CBD cultivar to smoke and actually taste in a blunt. This is the one you've been waiting for.
Use code 'THEHIGHESTCRITIC' for 10% off some Immortal Craft Hemp Flower from Dreamland Organics.