Concentrate Review: Pootie Tang Rosin (LA Kush x Tang Tang)
Okay wow.😯 This Pootie Tang (LA Kush x Tang Tang) rosin from @muv.fl is simply amazing.
Lineage/Genetics: LA Kush x Tang Tang
Original Breeder: New House Seed Co.
Grower: MÜV Florida
Processor: MÜV Florida
Dispensary: MÜV Florida
Pootie Tang Rosin Review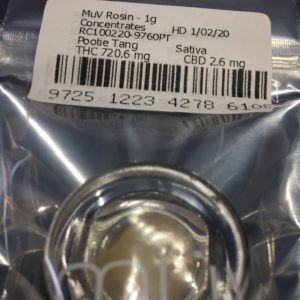 So very terpy and a nice, even consistently throughout due to them squishing the dry sifted trichome heads rather than the whole flower.
@botanichemist and the crew sure know how to get it done right.👏🏼
Such a euphoric and long-lasting cerebral buzz that makes you want to create or clean the house! A wonderfully sweet taste filled with limonene and pinene. First time trying their rosin and I'll be getting it plenty more.
Only wished Müv had a rewards program; then I'd totally make the drive more often. 🔥🔥🍯🔥🔥
THC: 72.06%
CBD: 0.26%
#indicadam #southflorida #cannabiscommunity #flmedicalmarijuana #floridamedicalmarijuana #legalcannabis #cannabis #strainreview #floridacannabiscommunity #flmmj #nugshot #medicalmarijuana #floridacannabiscoalition #floridacannabis #thc #mmjpatient #mmj #terps #terpenes #medicate #medicine #muv #solventless #rosin #sativa #pootietang
FL mmj patient
Cannabis advocate cataloging strains available to patients in beautiful Florida
Nothing for sale
18+ page only