Cultivar Review: Bacio Gelato by SHERBINSKIS
Sunday SAP — My entry this week on @the_ganjier SAP is another from @sherbinskis this time the Bacio Gelato cultivar.
Lineage/Genetics: (Sunset Sherbert x Thin Mint GSC)
Original Breeder: SHERBINSKIS
Grower: SHERBINSKIS
Terpene Profile: Unknown
Bacio Gelato Cannabis Cultivar (Strain) Review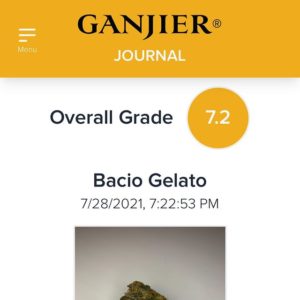 I liked it much better than the Mochi Gelato. The cure was notable, because the ember stayed lit in my pipe, which was a nice surprise! The aroma came across as sweet pineapple with slight gas and petrichor. The flavors, however, were nutty and savory, with grilled onion. Effects were delayed and well rounded, mostly cerebral. Overall, I'd say good, but I have a difficult time justifying this price point for average quality. For an eighth costing $50 or more, I want to be wowed! #ganjier #cannabis #sommelier #420 #quality #neversatisfied
I'm a Certified Ganjier who is passionate about craft and legacy cannabis farms in Humboldt and Mendocino counties. My plant knowledge and expertise cover a range of disciplines such as history, botany, genetics, service, and cultivation while my work history demonstrates technical skills and leadership prowess.
I'm looking for impactful opportunities in Humboldt or Mendocino that will give me energy. Quality assessment is the aspect I'm most drawn to, so maintaining those skills is very important to me. Ideally I'd like to be in a role where I can interact with farmers, budtenders, and consumers, like an on-staff Ganjier at a lounge or maybe for a distributor. Being able to check quality at various stages from farm to retail shelf is huge, but at the end of the day caring about the people I work with is the biggest priority.
Advertisements