Cultivar Review: Cherry Dosi by That Good Good Farm
It's been a minute since I've seen a cherry anything. Here we have a Cherry Dosi from That Good Good Farm.
Lineage/Genetics: Phantom Cookies x Do-si-dos
Original Breeder: Unknown
Grower: That Good Good Farm
Medium: Living Soil
Terpene Profile: Unknown
Website: www.thatgoodgoodfarm.com
Cherry Dosi Cannabis Cultivar (Strain) Review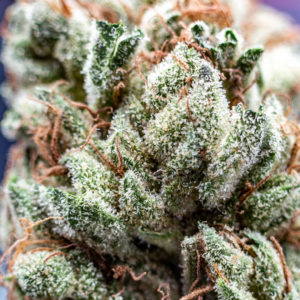 This is some good, good cherry dosi – light cherry smell. Like a storebought cherry – some grassy sour almost like from a cecum. Hints of a Brand New Cherry Flavor level of dark underneath on the unground flower.
The flower is beautiful. A true bouquet with beautiful hairs pointing out at odd directions like stray cowlicks or lone flowers in a meadow. This is what beautiful living soil cannabis looks like. Truly impressive specimen with no orange only brown pistils. A little kush looking but not smelling. I get a bit of the savory dosi though. Love it. Beautiful trim job too.
Once ground up, it changed dramatically for me. A pungent latex off gassing smell comes out that really really piques my nose's interest. This is what I'm talking about, Dosi crosses will trick you every which way imaginable… like a phantom.
Taste is redolent of almost-but-not-yet ripe chokecherries at the end of summer somewhere along the ol' Pony Express trail. Slightly bitter but very floral in taste.
This high is like setting the Youtube speed to 1.25x. For me, a controllable amount of raciness and elevated heart beat paired with an overcast forecast, but you're high af and don't need sunshine anymore.
Cherry Dosi was one of two Dosi cultivars from the Emerald Triangle that I got to try out of Hall of Flowers. I have seen a lot of dosidos crosses over the last several years and they're one of my favorite consistent new developments in the current dessert hype world.
Recommended! s/o Hall of Flower
Founder of The Highest Critic
Unpaid /r/trees mod
Certified Ganjier
Kine bud enthusiast
Advertisements