Cultivar Review: Modified Grapes by Foxworthy Farms
Modified Grapes paired with DJ Dan is what's on the menu tonight.
See with your ears. Some Foxworthy Farms bags come with a QR code to download a song so you can smoke and listen to a paired cannabis auditory experience.
I dunno if any of you readers have ever experienced synesthesia on enough weed but the foxworthy farms collection might get you closer than ever before.
Lineage/Genetics: GMO x Purple Punch
Original Breeder: Symbiotic Genetics
Grower: Foxworthy Farms
Terpene Profile: Beta Caryophyllene Dominant (B-Cary, d-Limonene, B-Myrcene)
More info: www.foxworthyfarms.com
Foxworthy Farms Modified Grapes Cannabis Cultivar (Strain) Review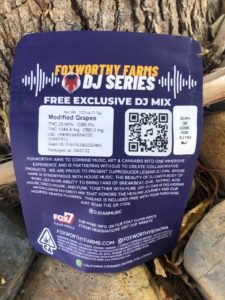 Fox worthy farms mod grapes. Least grapey mod grapes I have seen but boy does it hit with fruity earth. Peppery and cinamony on the first pass and a little minty after. This is what I imagine the cotton candy vineyard smells like the day after harvest is over. The grape is there it is a dark grape like a grape scented incense stick. Almost sweet like candied fruit
Gas when you break it up. almost no tactile feel. not sticky, not too oily, more waxy than anything else. so interesting. the dry hit was intense.
The looks of the bud are really unassuming but it really impressive everywhere else. tastes of bitter, some rotten meat gas, and a powerful oak barrel aged wine of a grape taste. i want some of my somm friends to try this and tell me exactly what type of red wine it is because I obviously don't know.
The taste is more grape than the nose lets on. So the flower is a deconstructed grape. Your eyes drip and you really zone into the music.
DJ Dan. In the first few minutes there's a line that says:
"y'all ninjas got me high."
That really resonated with me. I wonder why.
This stuff feels euphoric and the music really steers it in that direction. Got a little cheese on my face. Grape and (moldy) cheese board smell. Yum
This is 0.5 track. I can't keep a solid thread going in my head.
I fux with that.
Founder of The Highest Critic
Unpaid /r/trees mod
Certified Ganjier
Kine bud enthusiast
Advertisements