Cultivar Review: Fly from Cookies SF Treehouse Lounge
Sunday SAP — I picked this Fly up from the @cookiessf Treehouse lounge, because the girl working knew nothing about it, and I was able to try something completely blind without ANY influence or suggestions going in.
Genetics: florida kush X the Y
Breeder: Powerzzzup Genetics
Grower: Cookies Enterprises
Terpene Profile: Unknown
Dispensary: Cookies SF Treehouse Lounge
Cookies Fly Cannabis Cultivar (Strain) Review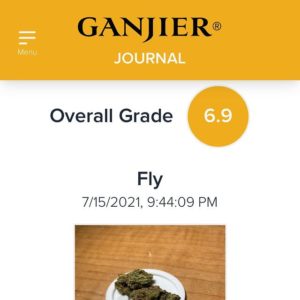 I have this at a 6.9 on @the_ganjier #SAP which makes it a solid contender! The aroma was layered fuel earth, but a bit weaker than I hoped. This is possibly due to the bag storage (I prefer jars) eroding surface trichomes. Flavor wise, Fly was a tasty surprise! It has hints of grilled onions and brown sugar! The effects were nice, as well. This is the first strain to stand out to me in awhile, because I felt floaty, cerebral, and giggly. Now I want more Cookies! #ganjier #cannabis #sommelier #420
I'm a Certified Ganjier who is passionate about craft and legacy cannabis farms in Humboldt and Mendocino counties. My plant knowledge and expertise cover a range of disciplines such as history, botany, genetics, service, and cultivation while my work history demonstrates technical skills and leadership prowess.
I'm looking for impactful opportunities in Humboldt or Mendocino that will give me energy. Quality assessment is the aspect I'm most drawn to, so maintaining those skills is very important to me. Ideally I'd like to be in a role where I can interact with farmers, budtenders, and consumers, like an on-staff Ganjier at a lounge or maybe for a distributor. Being able to check quality at various stages from farm to retail shelf is huge, but at the end of the day caring about the people I work with is the biggest priority.
Advertisements