Cultivar Review: Red Dragon by LitHouse
Sunday SAP — @_lit_house coming in hot at a 7.5 with Red Dragon!
Lineage/Genetics: Himalayan Kush x Brazilian Landrace
Original Breeder: Unknown
Grower: LitHouse
Terpene Profile: Unknown
Red Dragon Cannabis Cultivar (Strain) Review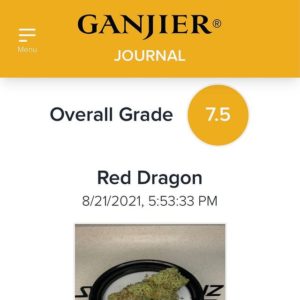 This is some exotic magic in a jar; Himalayan Kush crossed with a Brazilian landrace. 🗺 THIS is why I'm a Ganjier! To find the exotic, rare, and forgotten…
The complex aroma allured me in with its peaches, coriander, kerosene, and tea tree oil. Most of those notes carry through to the smoke, evolving to sweet garlic with grilled peaches and coriander on the tail. Very smooth smoke.
I felt mentally uplifted, but not energized, so I put on some Stevie Ray Vaughan for a little wake and bake, then eased into the day!
I've been doing these @the_ganjier #SAP assessments for a few months now, and Red Dragon is the first one my dog came over to investigate! #GriffinApproved
#ganjier #cannabis #sommelier #landrace #mendocino
I'm a Certified Ganjier who is passionate about craft and legacy cannabis farms in Humboldt and Mendocino counties. My plant knowledge and expertise cover a range of disciplines such as history, botany, genetics, service, and cultivation while my work history demonstrates technical skills and leadership prowess.
I'm looking for impactful opportunities in Humboldt or Mendocino that will give me energy. Quality assessment is the aspect I'm most drawn to, so maintaining those skills is very important to me. Ideally I'd like to be in a role where I can interact with farmers, budtenders, and consumers, like an on-staff Ganjier at a lounge or maybe for a distributor. Being able to check quality at various stages from farm to retail shelf is huge, but at the end of the day caring about the people I work with is the biggest priority.
Advertisements