Cultivar Review: Ivory by Fig Farms
Sunday SAP — I was lucky enough to bogart another rare cultivar, @fig.farms Animal Mints (Ivory Phenotype)!
Lineage: Wedding Cake x Animal Mints F1 (Ivory Pheno)
Original Breeder: Fig Farms
Grower: Fig Farms
Terpene Profile: Unknown
Ivory Cannabis Cultivar (Strain) Review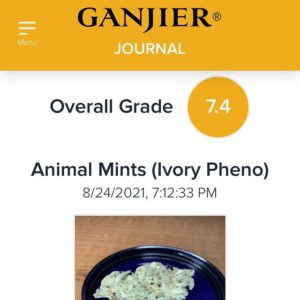 Sparkly off-white trichome heads entirely coat everything. It's truly divine and easy to get lost looking at them! 🤩
At 7.4 on my @the_ganjier #sap (currently 6th overall) there are immediately two notable pieces of data: this score is within 0.2 of their Animal Mints, and the entire 1/8 is, again, almost one huge nug. Consistency of quality products is the sign of a reputable grower!
Aromas came across mostly as rubber ball, with bell pepper, lemon, and hints of ginger. The flavor didn't match, but do they ever? It tasted kind of earthy, citrusy, just not very strong. The smoke was smooth though.
It takes a minute to really set in, but the effects are physically relaxing and mentally balanced. This would be good for socializing with friends. I really like what I've tried from @fig.farms and I think I'm becoming a fan! #ganjier #cannabis #sommelier #420 #quality #flower
I'm a Certified Ganjier who is passionate about craft and legacy cannabis farms in Humboldt and Mendocino counties. My plant knowledge and expertise cover a range of disciplines such as history, botany, genetics, service, and cultivation while my work history demonstrates technical skills and leadership prowess.
I'm looking for impactful opportunities in Humboldt or Mendocino that will give me energy. Quality assessment is the aspect I'm most drawn to, so maintaining those skills is very important to me. Ideally I'd like to be in a role where I can interact with farmers, budtenders, and consumers, like an on-staff Ganjier at a lounge or maybe for a distributor. Being able to check quality at various stages from farm to retail shelf is huge, but at the end of the day caring about the people I work with is the biggest priority.
Advertisements