Cultivar Review: Kush Mints by The Kolektors
#KushMints by @thekolektor x @kolektors_why_oze x @thekolektors x @tksxsensei
Lineage/Genetics: Animal Mints x Bubba Kush
Original Breeder: Seed Junky Genetics
Grower: The Kolektors @thekolektor x @kolektors_why_oze x @thekolektors x @tksxsensei
Terpene Profile: Unknown
Kush Mints Cannabis Cultivar (Strain) Review
.
Kush Mints by the Kolektor Stash makes the top 3 on my list of the heat grown in nyc you want to try good quality from 🗽 grown, that Kush mint will keep you lit and satisfied.
The first time I had this phenomenal cultivar, I was a guest part of their podcast . I was even more impressed by this flower being NYC 🗽 grown Kush mints, hitting all angles. This new batch it's even more potent. The chemists @thekolektor x @kolektors_why_oze in collaboration with @tksxsensei are back with their creation of an upgraded version. The structure of the nugs show better quality and more trichomes than the first edition.
The trichomes crystals look like ❄️ flakes covering this illustrious 🗽 bred nugs. It is designed with Orange knicks color pistils, Statue of Liberty 🗽 color buds. The high is hitting ball, stealing bases and earning runs like the Yankees. It has a medium level cerebral high, after the first 4 pulls sets to a climax of a high level intense high. The taste is minty, caryophyllene combine with a wood pinene, limonene fume after taste. The smell 👃 is a earthy, pine 🌲 aroma of fresh floral undertones. I took a tolerance break, to see the real benefits of the plant. The high lasted about 3 hours or more. Some of the effects are low eyes, gain of appetite, heavy sedated, Cotton mouth, incredible body high. The funny thing is I had to clip it at the half. I was stupid high, perfect night smoke since it will take you out on a comatose date.
The ashes were salt and peppery, more white ash on the @futurolausa paper , then the @loudnature. Overall this nyc stamped cultivar with all the tools to set the stage to control the market. I've heard various opinion from some of my stoner colleagues, they love this Kush mints compare to others they had in the past. Shoutout to @thekolektors for the work they put in on their craft. They came a long way from the SLLP, Lemon Betty to now the Kush Mints and Black diamonds. I also respect that this team put the crosses and lineages, video journals of their process. Kush mints get a perfect 5/5.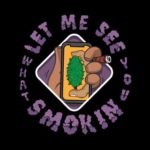 Advertisements