Cultivar Review: Pegasus by Ethic Farms
#pegasus by @ethic.farms
Bred by: Greasi Genetics @greasi__genetics x @greasi_grows @greasi_genetics
Lineage – LCG s1
Grower: Ethic Farms
Terpene Profile: Unknown
Pegasus Cannabis Cultivar (Strain) Review
@wakeandbake_show
Pegasus is from the creations of @greasi_farm & cultivated by @ethic.farms. In Greek mythology Pegasus is the winged horse tamed by the Gods. This Cultivar gives the euphoric vibes to a visit to mount olympus. Pegasus is a Lemon Cherry Gelato S1. S1 refers to the first filial generation produced as a result of crossing the plant with itself. The LCG s1 is also used in combination with the SugarCone 3 to create the Pistachio Gelato.
The pistachio gelato is not your typical LCG, Pegasus is the opposite taking it back to the essence of the LCG. @ethic.farms grew this on org tulfur soil. On the first pulls, I hit that lemon cherry wiff followed by a waffle dough fuel after taste. The scent is a strong candy, musky earthy aroma. The flower was dense similar Runtz/ LCG structure. The Violet hues shown especially after the grind, follow by lemon & lime nugs, persimmon fruit color pistils / The palate is a sweet dough LC – gelato pastry,earthy savor.
The effects are a heavy intense cerebral high for like about 40 min, fades to a medium cerebral low body high. The inhale is smooth,leveled smoke 💨 on the 😮‍💨. The smoking experience is a good one 60/40 more salt than pepper on the ash. I got better results on the elements papers 5/5 – original & slow burn – Vibes – 3.5/5 .
The high starts around 8-9 pulls in, lasting around a total of 1.5 hour high. Overall Pegasus came to conquer as far as effects, taste, scent & appeal. @ethic.farms cultivated this cultivar in a way that @greasi_grows can be proud that somebody can grow his genetics 🧬 that good. Pegasus is sweeter than pistachio but pistachio had a better smoking experience. Pistachio had a longer lasting high, Pegasus taste better. Pegasus 4/5 —-
.
.
.
.
#weedreview #notforsale #cannabiscommunity #cannabisculture #highsociety #stonerlifestyle #stonersociety
#weedsmokers #smokingweed #cannabislove #cannabisconnoisseurscoalition #cannabislifestyle #cannabisconnoisseurconnection #420culture #cannabisgrow #cannabiscures #greasigenetics #ethicfarms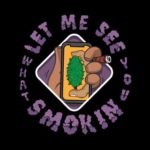 Advertisements