Cultivar Review: Priv by Headstash Cultivators
Priv cultivar
Lineage/Genetics: HeadStash Runtz x Headstash Runtz (Zkittles x Gelato)
Original Breeder: Headstash Cultivators
Grower: Headstash Cultivators
Terpene Profile: Unknown
Headstash Cultivators Priv Cannabis Cultivar (Strain)
Review
I've been hearing about the @headstash_cultivators x @headstashonly1 for some time now. They are making waves from San Francisco with their slogan friends don't let friends smoke Reggie #headstashonly . Today I am reviewing "Priv" which is a headstash Runtz cross with itself, bringing a candied terping cultivar. Once I open the bag, I instantly knew it was Runtz. The nugs came with wheat 🌾 color trichomes, cabbage green color leaves, American cheese color pistils, prune color hues.
The scents of candied fumes, blended with floral aroma. The palate is sweet, with that pungent gelato, earthy and citrus grapefruit zkittles taste. The effects are medium level cerebral high, partnered with a great body high. I smoked it before going to sleep and it had me passed out by 10pm. I also smoked it on a wake and bake to give it a better insight on a sober mind. The ashes burn a bit more pepper than salt. The inhale was a bit harsh, smoothens out on the 😮‍💨. The high lasts about 1.5 full effect starts fading out in 2.
I smoked it on a raw and vibes paper, got a darker ash on the raw, than the vibes. Overall is your typical Runtz nothing too crazy, still does the purpose to take you on a trip. The highlights are the candied smell and the sweet palate. Nothing too special of this priv. The smoke was not too clean. I feel it could of had a better flush. I still hope to try other flavors and see the variety of the Headstash. 3.9/5
.
.
.
.
.
.
.
.
#weedreview #notforsale #cannabiscommunity #cannabisculture #highsociety #stonerlifestyle #stonersociety
#weedsmokers #smokingweed #cannabislove #cannabisconnoisseurscoalition #cannabislifestyle #cannabisconnoisseurconnection #420culture #cannabisgrow #cannabiscures #cannabismagazine #cannabisconnoisseurconference #cannabisconnoisseurgenetics #weedgram #cannabisconnoisseur👌 #cannabisindustry #weedsociety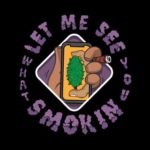 Advertisements