Cultivar Review: The Chauffer by Farmer and the Felon
Sunday SAP — Hadn't seen The Chauffeur from @farmerandthefelon before, and it was a nice little afternoon!
Lineage/Genetics: Unknown
Original Breeder: Unknown
Grower: Farmer and the Felon
Terpene Profile: Unknown
The Chauffer Cannabis Cultivar (Strain) Review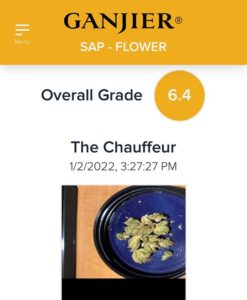 I scored this a 6.4, which is pretty good, especially for bag storage. I only get bag eighths when the price is right.
I could tell right away that this batch wasn't quite ready to be harvested yet, but it was close. The aromas came across with floor cleaner, spearmint, and maaaaybe a bit of rotting apple. It just wasn't very intense, and the dry hit and flavor fell short.
All in all not too bad. It was a gentle balanced ride, but didn't stand out and was kinda short. It smoked smooth. I like what FF is doing with their programs and awareness. Yes, smoking them serves a greater cause!
#ganjier #cannabis #sommelier #connoiseur
I'm a Certified Ganjier who is passionate about craft and legacy cannabis farms in Humboldt and Mendocino counties. My plant knowledge and expertise cover a range of disciplines such as history, botany, genetics, service, and cultivation while my work history demonstrates technical skills and leadership prowess.
I'm looking for impactful opportunities in Humboldt or Mendocino that will give me energy. Quality assessment is the aspect I'm most drawn to, so maintaining those skills is very important to me. Ideally I'd like to be in a role where I can interact with farmers, budtenders, and consumers, like an on-staff Ganjier at a lounge or maybe for a distributor. Being able to check quality at various stages from farm to retail shelf is huge, but at the end of the day caring about the people I work with is the biggest priority.
Advertisements