Edible Review: Grape Soda Lollipop by Yoshables
Grape Soda Lollipop 🍭 25 mg
//by @yoshables//
Processor: Yoshables
Yoshables Grape Soda Lollipop Review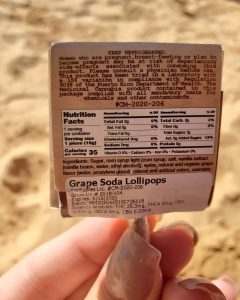 🌬I'd been to the dispensary many times and saw these without giving them much thought since i am not that big on edibles. My tolerance is quite high and 25 mg alone won't do it unless i smoke a little to kickstart a nice prolonged high, so edibles arent something i buy often.
🍭Then @cristinahaze postio su review and something about it made me think i really needed to try this lollipop. Though i avoid candy and generally don't like it unless its chocolate or ice cream, aunque i secretly enjoy lollipops alot.
The next time i went to a dispensary, i saw the lollipop and it immediately caught my eye and the beautiful budtender from Frontiers hyped me up even more to try them.
(If by any chance the budtender girl sees this , i want you to know you are super nice and me turn my day around for the better so thanks. Also you are like realllly freaking beautiful. )
I shouldn't of slept on these lollipops.
✅ They are amazing. I love lollipops and cannabis, so honestly this is my favorite non-chocolate edible. Definitely recommend it and definitely will buy again.
🏖I went to the beach to enjoy the lolli, i had a nice blunt and enjoyed the lollipop with my friends as we talked. We all loved the taste, very sweet. A true candy treat. I didn't taste any trace of cannabis, but i definitely felt it. 🍬
❕❕I remained high the entire time, at a similar intensity as my low tolerance friends. FOR A STONER TO FEEL THE HIGH FOR THE SAME LENGTH AS A LOW TOLERANCE PERSON IS A BIG DEAL TO ME. (No se tu pero yo me frustro when my friends are high off half a bowl and i would need at least 2 bowls in a row to get to that level)❕❕
⬆️ ❗BTW that is why Tolerance breaks are important, i will be going into one soon.
✔It prolonged my super chill beach vibes high. It made me at ease and happy and i had a lollipop.
💗I'd like to say something about the packaging, it is the cutest thing ever and i love it. Its easy to peal way, since its wrapped in cardboard and plastic.
When you open the cardboard, Captain Yosh is inviting you on a trip through this cute message.
⚠️HAZARDOUS TO KEEP AROUND CHILDREN ⚠️ (candy and easy peal off)
#stonergirl #cannabiscommunity #cannabispr #headintheclouds #cannabisenthusiast #420community #420everyday #weeddaily #cannabisculture #cannabispr #weedlife #weedporn
Advertisements